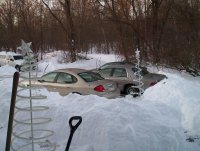 Apparently Florida has been having its longest streak of cold weather ever, worse than that in the mid-1980s, which (along with predatory developers) killed off the Central Florida citrus industry. I was unaware of the records being set, as we returned after the cold spell was well underway, having spent nearly a month in the Northeast, where we experienced single-digit temperatures, played hockey on a local pond, and shovelled 2.5 feet of snow.
The neighbor who picked me up at the bus stop had kindly warned me that it was cold, but with a long-sleeved turtleneck shirt, my warm
Westtown
sweatshirt, and a heavy coat (with hat, gloves, and scarf if necessary), I figured I was prepared for anything Florida had to offer. And I was.
Except when it came time to sleep. I had turned up the thermostat, which we had left at the lowest setting while away, and the house temperature—by which I mean the temperature next to the thermostat—had crawled up ten degrees to 58 F, which should have been fine for sleeping, except that I had not taken into account the excellent insulating properties of the blankets on our bed. It takes a long time to fall asleep between 50 degree sheets.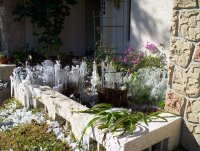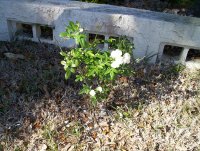 By Wednesday we should see more moderate temperatures (that would be "hot" to those of you who've reported below-zero readings recently), but a hard freeze is expected once again tonight, so once again we've covered the worms and turned on the light we've placed under their dwelling place, and once again we've turned on the sprinklers that are attempting to protect our patient grapefruit tree and little garden. I think we've lost the tomatoes and it may take the Thai basil some time to come back, but otherwise things seem to be surviving. And Heather's roses are bravely blooming, weather or no.
(Click on the pictures for the full view. Don't miss our Winter Wonderland Ice Garden.)
For the record, as bedwarmers go, it's really hard to beat that handiest and most versatile invention, the husband.