I think I will tell the story of our recent trip to Europe in topical segments rather than strictly chronologically. The COVID pandemic, being so intimately woven throughout, seems a good place to start.
Our last trip to Europe before the pandemic shut down travel had been in September 2019—to Switzerland (of course) with a side trip to Rome. Then 2020 and 2021 broke our 13-year streak of annual (sometimes more frequently) international travel to visit our international daughter and her family.
Our planned Viking river cruise of 2020 was postponed twice—and then drastically altered thanks to the fact that one of the stops was to have been St. Petersburg (not the city on the west coast of Florida). As part of Viking's compensation for the inconvenience, we acquired along the way a one-week cruise up the Rhône River in France, with an extension that gave us two weeks in Switzerland. Much to my surprise, that one survived.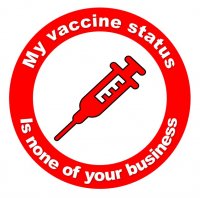 It seemed fitting to remove, at least temporarily, my Facebook profile picture, which prolaimed—in response to Facbook's pressure to brag about having received the COVID-19 vaccine—that "My vaccination status is none of your business." Because suddenly my vaccination status had become everyone's business. First it was Chicago, where we couldn't attend a concert, visit a museum, or eat in a restaurant without out photo ID and proof of vaccination. This time it was international travel.
I've said many times that I deplore the division of our society into the "clean" (vaccinated) and the "unclean" (unvaccinated), with its harmful (sometimes hateful) discrimination against the latter. I've also admitted that my scruples only go so far. I may willingly cut back on my restaurant meals and museum visits, but seeing friends and family is another issue. We were willing to go through all sorts of bureaucratic hoops to make that happen.
The problem was that those hoops kept changing. Europe started opening up drastically, and so did some of our states. But America's rules regarding international travel remained stuck where they were the first week in December. And Viking chose to keep its own rules very strict. (Wisely, I think, much as I hated them, because how were they to know when the countries involved would change their minds again?) Plus, as we all know, websites are not always kept up-to-date, and we found that one page on a given informational site would contradict another.
But finally, with tests taken, documentation in multiple formats, and unwanted apps installed on our phones, we thought we were ready. The most stressful part was the required pre-travel COVID testing: there's nothing like knowing all your plans could be so easily trashed at the last minute to bring home, once again, the sub conditione jacobaea warning.
Our results were negative, and we boarded the plane for the first leg of our journey, to Montreal. All looked to be going well, as they pronounced all our paperwork to be in order as we waited to board the next flight, this time to Brussels. But at the very last minute (boarding had already started), they decided that our European Union forms were not sufficient, and that we needed special forms for Belgium. (Which, last I knew, was still in the EU.) These had to be filled out online (one for each of us) and we had to wait for e-mail confirmation of approval. Miraculously, both our e-mails came through in time and we were able to board the plane.
As it turned out, neither the form for Belgium nor the original EU form were ever looked at.
Masks, by the way, were required at every stage of the journey. We had been told that ordinary masks would not suffice, and that we had to acquire and use N-95 masks—another requirement that turned out to be false.
The rest of the journey, from Brussels to Marseille to the awaiting Viking ship, went smoothly. Once on board we were subjected to another COVID test, as we would be daily for the rest of the cruise. Once this was confirmed as negative, we were allowed to remove our masks. The one guest whose test came back positive was quietly "disappeared."
The cruise up the Rhône was lovely; I'll save the details for another post. Only two things bothered me: The substantial dinners never started till after 7 p.m. and lasted till 9, perfect conditions to provoke reflux; thus I soon developed a mild sore throat and post-nasal drip. This was made worse by the plane trees, which were in bloom everywhere, shedding pollen in blizzards and creating "snowdrifts" that we shuffled through on our frequent city walks. This, of course, exacerbated my symptoms, and added itchy eyes to the mix. Still, it wasn't that bad, and I could somewhat mitigate the problem by wearing a mask when we were outside. (France has done away with masking rules, but wearing one helped with the pollen and additionally kept my face warm in the brisk mornings.)
At least, I assured myself, I knew for a fact that what was bothering me was allergies, not COVID. Not if testing means anything, since every one of my daily tests came back negative.
Until one didn't.
On the very last evening of the cruise, as we were packing and preparing to disembark at 4 a.m. the following day for our flight to Zurich, there came a knock on the door.
"Mrs. Wightman? Are you all right?"
"Yes, of course. Why do you ask?"
"Because you have tested positive for COVID."
Porter's test had come back negative, but that made no difference: we would both be whisked off to an unnamed hotel for isolation and quarantine.
It's a pity that we had already filled out and turned in our customer satisfaction surveys, because at that point our very happy experience with Viking turned into somewhat of a nightmare of unanswered questions. Since Janet & family were expecting us the next day, we had to start making plans, but Viking could not or would not tell us anything. Not where we were going, not what would happen, not how long we'd have to stay isolated. Their best guess was 10-14 days. Once we arrived at the hotel, we were told, a Viking representative would explain all of that to us. Could we please have that person's phone number so we could explain our specific situation and include our waiting family in the plans? No, we could not. Nothing could happen till we were settled into the hotel. Finally, they promised to give us the phone number as we were leaving the ship. Which for some reason took until after noon the next day (at least they served us breakfast).
At that point we were treated to a 350-euro taxi ride (paid for by Viking) from Lyon, where we were berthed, to ... wait for it ... Geneva, Switzerland! To the InterContinental Hotel, to be precise. My guess is that Viking, headquartered in Basel, Switzerland, has some sort of relationship with the InterContinental. The name of the hotel only matters in that it turns out that I had stayed there once before, in 1969, when for reasons I never knew, our Girl Scout troop, which otherwise lived as cheaply as possible during our European tour—i.e. sleeping at youth hostels, convents, and the like—spent our last night before flying home at this incredible luxury hotel. It wasn't the least bit familiar to me, but then again, a lot would have changed in more than half a century, and besides, we weren't allowed to leave our room.
During the long taxi ride, Porter had called the number Viking had finally provided for our contact, only to find out that it was some other Viking representative's number, not that of the person dealing with our problem. They wouldn't give out the number of the right person, but assured us she would be waiting for us at the hotel.
She wasn't. Our taxi driver checked us in and walked us up to our room.
We were in some sort of hotel "isolation ward," with at least 18 rooms filled with people from our ship. Considering there were only some 145 passengers on the cruise, and most of the hotel rooms probably housed two people, that's a pretty impressive percentage. And to think that if I could have held off for just one more day we'd never have known. I'm pretty sure that if there had been one more day of testing, Porter would have been positive as well, as it seems he was no more than a day or two behind me.
As prisons go, it could hardly have been better. We were required to stay in our rooms and get our meals via room service. The room service prices were absolutely sky high, but as we were told we had an allowance of 140 francs per person per day, that was okay. (Or so we thought.) If we hadn't been so busy trying to pry information out of Viking, we could have enjoyed it.
To shorten the story, in the end it was the "wrong number" person who eventually helped us the most. The official contact had finally called, much later; she refused to give us her phone number, and would only say that she'd be by the next morning to deal with us. By now you are sensing the pattern: We never heard from her again, despite having told her that we needed to let our family know our status before 9 a.m.
There was no reason for them to keep us in isolation. Switzerland now has no isolation/quarantine requirements, so they couldn't hold us. As far as I can tell, most people in Switzerland either have already had COVID or consider it nothing to worry about.
The only thing holding us back was the need to fulfill Viking's requirements, since they held us hostage by virtue of being the ones who were taking care of our flights back to the U.S. Finally, the "wrong number" Viking contact faxed the hotel a paper for me to sign releasing Viking from all responsibility for my medical care, and Stephan generously made the three-hour drive to Geneva to rescue us.
There was one more unpleasant surprise: just as we were leaving, a hotel employee came running up to inform us that Viking required us to pay the hotel bill in full. We didn't hesitate, though it was over $400 for the few hours we were there. (So much for the food allowance we thought we had!) Porter will be seeing what he can do about reimbursement through either Viking or our travel insurance, but at the time the only thing we were thinking of was getting where we belonged: with family.
And finally we were, having lost only one day of our planned, very busy, schedule. Again, that's material for another post.
From that point on, our only COVID worry was getting the negative test results needed to fly home. Before we left, there had been some speculation that the U. S. would lift the requirement before our return, but alas that did not happen. Our chief concern was that some people continue to test positive long after they've recovered. In hindsight, we probably should have gotten Porter's positive status diagnosed officially, so that we could both get the "recovered from COVID" documentation, but at the time it seemed like an unnecessary expense and, more importantly, disruption to our schedule.
Fortunately, a good collection of at-home tests was available to us. Our first tests, taken 10 days after my initial positive result, came back still positive for both of us. Mine was a little lighter than Porter's, giving me hope that we were progressing in the right direction.
Four days after that, we tested again.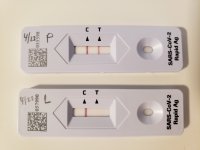 One down, one to go.
Two days later, Porter followed.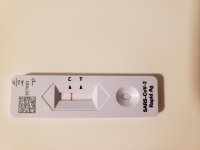 Of course, this was not good enough for the U.S. government, which requires tests to be properly documented by an official medical facility, but Stephan found us a place for that purpose and graciously accompanied us for testing. The price was very reasonable, and in less than an hour we had our coveted paperwork, and could pack in earnest. We flew out early the next day, as originally scheduled. The timing was a little too close for comfort, but all's well that ends well.
As much as we love visiting our family, the prospect of an indefinite stay wasn't pleasant for any of us, and the thought that our government could suddenly decide we were not permitted to come home was disconcerting and disorienting. I haven't been so glad to be back on U. S. soil since returning from Venezuela years ago.
As for COVID itself, what was our experience? I'm not certain. The only reason we know we had it is that we were tested. If we'd been at home, we wouldn't have had a clue. For me, the symptoms were very mild and indistinguishable from normal seasonal allergies. Porter's were much milder than an ordinary cold. Neither of us had a fever, lost sense of taste/smell, or had any hint of difficulty breathing.
In hindsight, the day after my positive test was the worst for me. (I didn't know I had COVID at the time.) That was Palm Sunday, our most strenuous day of the cruise: over 16,000 steps (according to my phone), up and down hills, at a pace so brisk I could not stop to take photos without falling significantly behind. I was exhausted by dinnertime, and left the table before dessert was served. (Perhaps the latter should have been a clue.) After that, I found I tired more easily (not uncommon when visiting grandchildren!) and experienced occasional light-headedness. Then one day I suddenly realized I had more energy—and later that day I tested negative. Porter's lingering symptom was a sore throat and tiredness—not that that stopped him from repeatedly playing soccer with our grandsons.
It took us ten to fourteen days to test negative; could we have shortened that by taking to our beds and resting? Maybe. I'm not convinced—though had we been at home I wouldn't have minded a few days of lounging around with a book and copious cups of tea. I'm just so grateful that we were not slowed down either on the cruise or in our family activities. If we had to catch COVID while on vacation and out of the country, it's hard to imagine the timing and course of infection working out better than they did. I'm told the French healthcare system is very good, but I'm happy not to have put that to the test.
Now my vaccination status is once again no one's business but my own. Maybe I'll put back my Facebook profile picture to that effect. Nonetheless, I'm reveling in what I call my super-vaccination: three shots, and recovery from the disease itself. The protection may be temporary, but for now, no one can ask for more.
And no one can blame Florida's relaxed COVID restrictions for our illnesses. This was no ordinary Southern-style virus, but the high-class, COVID-française. Nothing but the best pour nous!