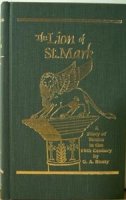 The Lion of Saint Mark: A Tale of Venice in the 14th Century by G. A. Henty (Preston-Speed, 2000; originally published 1889)
When we decided to make a visit to Venice, Porter reviewed the appropriate lectures from our Great Courses Guide to Essential Italy and studied Rick Steves' website and Venice travel guide thoroughly.
Me? I read G. A. Henty's The Lion of St. Mark.
Because Henty's works are primarily about young men and written with an audience of boys in mind, they devote more print to battle scenes than I would prefer; nonetheless I thoroughly enjoyed this adventure novel set in historical Venice. The story was fun, I liked the characters, and the historical setting seems reasonably accurate based on what I learned from our time there. Now that I've actually walked through the setting, I'm re-reading the story and enjoying it even more.
Henty's books have been republished, and I had a hardcover copy to read. But The Lion of St. Mark is also available as a free Kindle book.
Go to page: