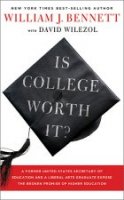 Is College Worth It? by William J. Bennett and David Wilezol (Thomas Nelson, 2013)
It is the best of times and the worst of times for education. From preschool through higher education, there has been a steady decline in the quality of public education in at least the half-century I've been observing it. If my father is to be believed—and he was always a very reliable source—it's been declining for a lot longer than that. He was frequently appalled at my generation's ignorance of basic history, geography, and literature. (He'd have said the same thing about basic arithmetic, but he was surrounded by engineers.) It doesn't take much observation to realize that today the average American's grasp of those subjects makes me look brilliant.
At the same time—and my father would concur—in some fields, for some people, knowledge and ability has soared. As a science fair judge, he was blown away by the scope and quality of the research done by high school students. His own high school had offered no math beyond trigonometry, and it was rare among high schools to offer even that. My high school offered only one Advanced Placement course—and that for seniors—whereas our children had at least a dozen to choose from, beginning as freshmen. And yet only a few students were actually prepared to take advantage of the generous offerings: back in fifth grade, I would have said the expectations of their teachers were well below those of my own, and far below those of my father's.
Despite the best efforts of educators to mush us all into a sameness at any level—better all low than some higher than others—there has always been an upper class and a lower class when it comes to education, and there always will be. What I've been noticing is that the highs are getting higher, the lows are getting lower, and the middle class is rapidly descending—much as is happening with economic measures.
I'm hoping the economic situation does not lead to revolution, but there's a crisis and a revolution coming in education and I say, bring it on! (More)