I fell in love with Penzeys Spices the first time I walked into their Pittsburgh store, many years and ten grandchildren ago. What an enormous array of herbs, spices, and extracts of excellent quality, as well as their own superb spice blends! I couldn't say enough wonderful things about Penzeys, in person and here on this blog.
You may or may not have noticed that I don't do that anymore. My interactions with the company have left a bad taste in my mouth, and when your business is selling food ... that's not a good situation.
Once upon a time I stocked up on Penzeys products whenever we visited our daughter in Pittsburgh. I put myself on their mailing list, and in between times would sometimes place an order through the mail. But imagine my joy when Central Florida finally got its own Penzeys store! We generally visited once a month, to take advantage of the free spice coupons in the catalog, and of course we almost always made other purchases as well.
Ah, the catalog. In each one, Bill Penzey wrote an enjoyable little column about spices, food, cooking, and family. I used to like reading that, almost as much as I enjoyed the food & family stories contributed by customers. But gradually, that changed. Politics started to infuse the catalog, first in Bill's column and then in the customer stories he chose to include.
Well, I don't usually discriminate against great products based on the political opinions of the company. I continued to drool over the catalog, skipping Bill's column. When I did read it, I was usually sorry I had. We continued our monthly visits to the store, where even the employees rolled their eyes at the political turn the company was taking.
And then Penzeys closed our store.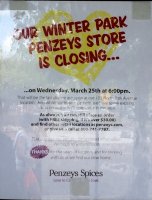 I understand that companies must make difficult economic decisions and sometimes stores must be closed. I'm okay with that, even if it makes me sad. Their lease was up, and rents are high in the area they had chosen to open their store. What my anger flowed from was the implication on their sign that they would soon be opening a new store in the area, though I certainly was looking forward to that.
You see, in his political writings Bill Penzey consistently positions himself and his company as the defenders of the common people, the little guys, the poor and needy ... you get the picture. He's always denouncing people and businesses that make decisions based on what he perceives as selfishness and greed. Yet he decided to close a store and reopen elsewhere just to get his company out from under an expensive lease, leaving his employees—the little guys, the poor and needy common people—high and dry. They could not afford to wait for the opening of a theoretical new store: they needed jobs. Given all Bill Penzey has said about what other people should do with their money and in their own businesses, I would have expected his company to bite the bullet, forgo some profit, and at the least not close the existing store until a new one, nearby but in a less expensive neighborhood, was ready to provide jobs for their displaced employees.
They did not. That moves the scenario from necessary business decision straight to hypocrisy. And as it turned out, it has been four years since they closed, and there is still no sign of a Penzeys store any closer than Jacksonville.
On top of that, despite my many attempts at communication—before and after this event; whether contribution, compliment, or complaint; by e-mail or postal mail—I never heard back from Penzeys. It was worse than writing to a politician and expecting communication!
Since then, Bill Penzey's political rants (which now come to me by e-mail rather than printed catalog) have gone over-the-edge extreme. The hypocrisy, the hate-preached-as-love, would almost be funny—if it weren't so sad.
The following incident did make me laugh, at least until I started wondering what tax advantage the company might be angling for. Last Friday, the mailman delivered a box of excitement: my most recent Penzeys order. Penzeys packages often come with a freebie or two tucked in, such as sample-sized envelopes of herbs or spices (my favorite) or something advertising the store or one of Bill Penzey's pet causes. Here's one of the latter that came this time: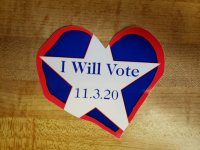 It's a sticker, no big deal except for the waste when it ends up in the landfill. What makes it bizarre is how it appeared on the packing slip, which you can see below, with some prices I've circled in red.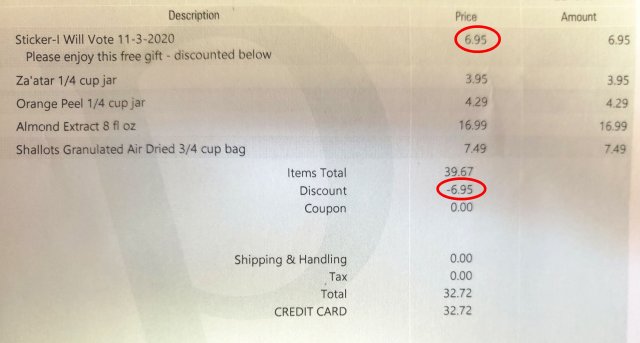 For this sticker, which I didn't order, they charged me $6.95, then "discounted" the price at the end. What kind of pricing is this? Who in his right mind would pay $6.95 for a sticker, let alone one not even worth sending to grandchildren? And what's the point? Some sort of shady accounting practice or tax benefit?
Amusing in a different way are the accolades Bill Penzey gives himself by first (1) making an extreme political statement, then (2) offering an extraordinarily good sale, 'way too good to pass up, then (3) bragging that his customers clearly endorse his political beliefs—just look at the spike in sales!
But do you know what? I still buy his spices. Not nearly as much, not nearly as often. As I said, the company now leaves a bad taste in my mouth. But the taste of the spices is still wonderful. I don't believe boycotts to be generally useful, and in most cases I choose businesses by quality and price without asking about politics.
Penzeys' reputation for quality is no doubt why they feel they can get away with repeatedly and consistently alienating half their customer base. It puts me in mind of what a math professor friend said about Harvard University years ago: The quality of education at the school has gone down significantly; students are no longer getting what a "Harvard education" used to mean. Harvard is living on its reputation. And that will be slow to die, because the Harvard reputation will still give Harvard graduates' résumés a great advantage over others. More importantly, it will continue to attract the best students, which will give them both the "iron sharpens iron" benefit and an unbeatable network of connections for the future. You can't live forever on reputation alone, but if you have once been great, you can fool yourself and others for a long time.
I believe Bill Penzey is fooling himself. As long as Penzeys' spices are perceived as superior—and many of them really are—even the spurned, denigrated, vilified half of his customer base will not flee en masse. But many—like some students who forgo applying to Harvard—may decide that the difference is not worth the cost. The love and the loyalty are gone.
Update 10/16/19: Note that this post has garnered enough comments to spill over past the first page. Click on the Next link to see the more recent ones.