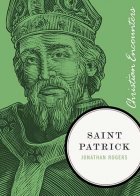 Saint Patrick, by Jonathan Rogers (Thomas Nelson, Nashville, 2010)
This new biography of the man whose feast day we celebrate this month is part of Thomas Nelson's Christian Encounters series. I was pleasantly surprised by the intellectual seriousness of this book, which I had expected to take a light and popular approach. It is certainly accessible, and short—just over 100 pages of text, plus appendices and notes—but packed with what little definitive information there is about this 5th century saint.
Although legends about St. Patrick abound, all that we truly know of him is deduced from two documents, written by Patrick himself later in life. Translations of both are included in the appendices. Rogers weaves together passages from these texts with cultural and historical background information to create a picture of both the man and his times.
In a very few places I was brought up short by what seems to me to be anachronistic language. For example, "Again, Patrick was unusual among Roman Catholics of his era in believing that 'all the world' meant there would be believers from the world beyond the Roman Empire." Surely "Roman Christians" would have been a better choice when referring to a time period more than a millennium before the Reformation.
The reader who picks up St. Patrick hoping for an easy read, or a story that will keep the attention of an average pre-teen, will be disappointed. But for someone looking for solid information on Ireland's patron saint and the world he lived in, this is a good place to begin.
---