While Joseph was undergoing a secular baptism of sorts at the American Embassy in Bern, Grandma had no official business other than to receive the diaper bag when it was rejected at the door for possible terrorist connections.*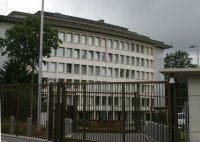 After a little exploration, the weather—along with the uncertainty of when the party might be over—turned the waiting time over to Li'l Writer Guy, who discovered that a Swiss café is a delightful place to work.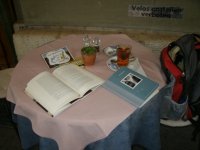 Fr. 4.- may seem high for a cup of tea, but I figure it as: cup of tea with cookie, Fr. 2-; quiet place to work, Fr. 2-; shelter from the pouring rain, Priceless. A great bargain.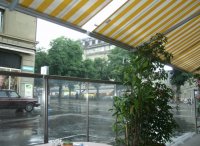 ---
*You will be happy to know that the family made it out of the Embassy without incident, thanks more to a good diapering job than to any efficiency on the part of the bureaucrats. The two babies in the waiting room slept happily for a long time...but each was in the midst of nursing when his turn finally came. Perhaps the Embassy needs three lines instead of two: American Citizens, Non-Citizens, and Get-These-People-Out-of-Here-Before-the-Baby-Wakes-Up.