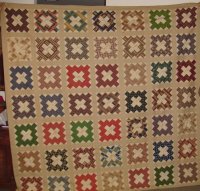 The project that consumed my life since mid-January has now reached—not completion, but a stopping point. Deadlines can be a blessing.
This particular deadline was the Haddam Neck Congregational Church Annual Quilt Show, coming this Saturday, April 9. Phoebe's Quilt will be exhibited there, meaning the real thing, not my book about the signers of this Friendship Quilt. Fortunately, the quilt owner gave me plenty of notice, because when she asked for a few copies of the book to have at the show, I knew I couldn't simply print them off.
The first edition of Phoebe's Quilt had bumped up against its own deadline, which was Christmas 2009. I hadn't thought much about it since, but the knowledge of what had been left undone would not let me rest until I had completed a revised version for the quilt show.
Amazingly, much of what is in the second edition could not have been done two years ago, even without the Christmas deadline. Many of the new facts became available online only in the last few months; even as I was buttoning up the revision more data was appearing, making a third edition inevitable.
Don't hold your breath. I'm quite happy with Version 2 for now, willing to scale back the work for a while (and return to normal life) and see what new information will appear in the next few months. I'm hoping the quilt exhibition will bring to light people with knowledge of the of the quilt signers' families, people who could provide not only missing facts but also stories of the signers' lives.
For a mere $30 you can have your own copy of Phoebe's Quilt. I know, I know. That's why people who publish genealogies don't make any money. If you buy a copy at the show, you'll get the special show price of $25. At that price, I lose money—but maybe I'll gain some information.
Or, you can have a PDF version of Phoebe's Quilt for free. I make much use of paid genealogy websites, and I don't think those companies need to apologize for charging for the services they provide. But I also benefit greatly from genealogical information that is available free of charge, the result of uncounted hours and untold effort on the part of those whose only reward is the value of the work itself. Hence my desire to make the genealogical information in the book freely available.
If you would like a PDF of Phoebe's Quilt, e-mail me and let me know why you are interested. I love to hear about other people's research! I'll be delighted to send you the document, asking in return that you not share the file with others, but instead direct those who are interested here, where they can obtain their own copes.
And if you live within a reasonable distance of Middletown, Connecticut, I hope you'll take the opportunity to see Phoebe's lovely quilt, in person. Here is the show information, taken from QuiltQua. (Note: Phoebe's Quilt will only be shown on Saturday, and if you want to be sure to see it, arrive early, as it may leave before closing.)
HADDAM NECK CONGREGATIONAL CHURCH QUILT SHOW
Haddam Neck, CT
Sat 09 Apr 2011 - Sun 10 Apr 2011

The annual Haddam Neck Congregational Church Quilt Show will take place on Saturday, April 9, 2011 from 10 a.m.-5:00 p.m. and on Sunday, April 10 from 11 a.m.-5:00 p.m. The Church is located at 408 Quarry Hill Road in Haddam Neck, CT 06424. Over 100 quilts will be on display in the church and in the adjacent meeting house. Admission is $5.00 for adults and children under 12 are free. The show includes a quilt vendor, raffle table and refreshments.
Contact information:
email: rdmchutchison@sbcglobal.net
Phone: 860-267-2848 or 860-267-4513
The following is a list of genealogically important names from my quilt research, solely for the edification of search engines, so that other researchers may find their way here.
Anna (Tryon) Bailey, Christopher Bailey, Bela Baldwin, Betsey (Hibbard) Baldwin, Laura Jane (Prior) Baldwin, Oliver E. Baldwin, Mary E. Bannister, Ashbel Bidwell, Daniel Bidwell, Lucy Ann (Johnson) Bidwell, Mary J. Bidwell, Thankful (Hubbard) Bidwell, Abbie E. (Holmes) Blinn, Elizabeth (Franklin) Blinn, John S. Blinn, Leander W. Blinn, Benanuel Bonfoey, Concurrence (Smith) Bonfoey, Eliza (Burr) Bonfoey, Horace Bonfoey, Horace Andrew Bonfoey, Phoebe L. (Scovil) Bonfoey, Susan Clarke Bonfoey, Susannah (Smith) Bonfoey, Alvin Brainerd, Anna (Brainerd) Brainerd, Ansel Brainerd, Asa Brainerd, Betsey (Pelton) Brainerd, Clarissa (Thomas) Brainerd, Daniel Brainerd, Deanthum Brainerd, Elizabeth (Welsh) Brainerd, Ezra Brainerd, Fanny (Smith) Brainerd, Frederick Brainerd, Heber Brainerd, Jerusha (Smith) Brainerd, Martha (Tyler) Brainerd, Nehemiah Brainerd, Sally Maria (Dickinson) Brainerd, Sarah (Brainerd) Brainerd, Sarah (Day) Brainerd, Aaron Burr, Amelia Melissa (Bonfoey) Burr, Asa Burr, Chloe (Hubbard) Burr, David Burr, DeWitt C. Burr, Elizabeth (Brainerd) Burr, Emma (Wellman) Burr, Esther (Spencer) Burr, Flora Betsey (Burr) Burr, Flora Betsey (Kelsey) Burr, George Burr, Joanna (Lane) Burr, Lucretia (Hubbard) Burr, Martha (Kelsey) Burr, Nelson Burr, Noah Burr, Noah P. Burr, Polly (Kelsey) Burr, Rebecca (Bulkley) Burr, Rebecca S. (Wilcox) Burr, Sarah (Johnson) Burr, Sarah (Johnson) Burr, Sylvester Burr, William Burr, William Hollis Burr, Willoughby F. Burr, Admiral M. Clark, Angeline (Cushman) Clark, Lucy (Clark) Corey, William Corey, Anna Colton (Brainerd) Day, Louisa (Bailey) Dewey, Milton B. Dewey, Sabra (Holcomb) Dewey, Samuel Dewey, Adeline F. Corey Elliott, Almira (Gillett) Elliott, Benjamin P. Elliott, Clark Elliott, Dolly (Smith) Flagg, George Flagg, Susan M. Flagg, Ann T. (Wright) Gardner, Henry F. Gardner, Jedediah R. Gardner, Vest (Rathbun) Gardner, Amelia Bullock (Abrahams) Gay, William A. Gay, Henrietta (Squires) Goodrich, Samuel Goodrich, George W. Guy, Lois (Hall) Guy, Nancy Smith (Brainerd) Guy, Orchard Guy, Clarissa C. (Loveland) Harris, Daniel Harris, Henry C. Harris, Huldah H. (Coe) Harris, Phoebe Ann (Smith) Harris, William Henry Harris, Lathrop Holmes, Mabel (Tryon) Holmes, Almira Tryon (Hubbard) Hubbard, Asa Hubbard, Charles Hubbard, Delia S. (Birdsey) Hubbard, Elisha Sears Hubbard, Lucretia (Bidwell) Hubbard, Samuel Birdsey Hubbard, Sarah Anne (Tryon) Hubbard, Alphonso Marsh Hyde, Arunah Waterman Hyde, Mary Ann Hyde, Mary S. (Wright) Hyde, Sarah (Kilbourn) Hyde, Didymus Johnson, Ruhama (Stephens) Johnson, Amon Judd, Austin Judd, Julia (Miller) Judd, Julia A. (Austin) Judd, Emerson F. Judson, Orin Judson, David Kelsey, Eli Jarvis Kelsey, Elizabeth G. (Hyde) Kelsey, Harmon J. Kelsey, Mehitable (Burrows) Kelsey, Olive (Parmalee) Kelsey, Esther Maria (Scovil) Leete, Frederick William Leete, Jeanette S. (Fowler) Leete, William Gilbert Leete, Clarissa (Cone) Loveland, Isaac Loveland, Caleb Miller, Clarissa (Whitmore) Miller, Hannah A. (Corey) Miller, Jane W. Miller, Mary B. (Hendley) Miller, Stephan Miller, Stephen Whitmore Miller, Abner Newton, Phoebe A. (Harris) Newton, Sarah (Hall) Newton, Daniel Peck, Daniel A. Peck, Maria (Olmstead) Peck, Thankful (Hubbard) Peck, Cynthia (----) Priest, Daniel Priest, Edwin Priest, Lucretia (Sizer) Priest, Daniel Prior, Daniel Harris Prior, Elizabeth (Skinner) Prior, Joanna Lane (Burr) Prior, Charlotte (Spencer) Redfield, Frederick Redfield, Abijah Roberts, Elnora (Ella) F. (Bidwell) Roberts, Fidelia (Hubbard) Roberts, Jasper A. Roberts, Adelaide (Holmes) Robinson, Alpheus Robinson, Harvey Robinson, Lydia (Dickinson) Robinson, Atwood Scovil, Cynthia Scovil, Esther Maria (Burr) Scovil, Frances Louisa (Bonfoey) Scovil, Joseph Scovil, Phoebe (Burr) Scovil, Phoebe (Spencer) Scovil, Sarah (Spencer) Scovil, Sarah A. Scovil, Sylvester Scovil, William Scovil, Alma (----) Smith, Barbara (Johnson) Smith, Eliza A. (Smith) Smith, Jesse Smith, John Smith, Joseph Smith, Oliver Phelps Smith, Phoebe H. (Childs) Smith, Simon Gardiner Smith, William Smith, Zeruah (----) Smith, Alvah W. Spencer, Ezekiel Spencer, Fanny (Bailey) Spencer, Fanny M. (Bailey) Spencer, Jane E. Spencer, Joseph Spencer, Maria (Hudson) Spencer, Martha (Tibbals) Spencer, Samuel Brown Spencer, Lowry Stone, Mary (Arnold) Stone, Robert Earl Stone, Susan Virginia (Scovil) Stone, Ebenezer Thomas, Elizabeth (Bailey) Thomas, Halsey Thomas, Israel Thomas, Mary (Brainerd) Thomas, Sarah R. (Burr) Thomas, Albertie Tryon, Franklin B. Tryon, Jane A. Tryon, Jane E. (Squires) Tryon, Anna Maria (Brainerd) Wallace, Betsey (Walker) Wallace, George W. Wallace, Thomas Wallace, Eliza (Stevens) Wellman, Henry L. Wellman, Ebenezer Wilcox, John Wilcox, Noah Post Wilcox, Rachel Florilla (Post) Wilcox, Sally Maria (Smith) Wilcox, Sarah Maria (Wilcox) Wilcox, Sarah (Crosby) Wright, William Wright.