I don't plan an update on my Focusing on the Foundations progress every single week, but I will post periodically because knowing that I'll have to admit to failure is a significant incentive to diligence.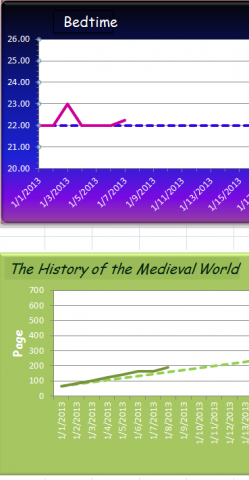 As you can see, by keeping my goals for the first week modest (i.e. just two), I've done all right. The dotted lines are where I should be to be on track for meeting my goals; the solid lines show my progress.
The 10:00 bedtime definitely required some discipline to meet, but I only slipped twice. Once (11:00) we had a guest for dinner, and were having such a good time I could hardly say, "Sorry, you must leave now; it's almost my bedtime." As with many rules, this one will no doubt work best if I allow exceptions—as long as they are truly exceptional.
With the other (10:15, though it was actually 10:09; the chart is denominated in 15-minute increments, with rounding) I learned an important lesson. There was a kitchen project I wanted to finish before going to bed, and I rushed around like a madwoman to get it done (almost) in time. But then I was so hyped-up I lay awake for another two hours, totally defeating the purpose of the 10:00 bedtime.
The history reading has been going well, largely because I take the book with me in the car whenever I'm not driving, though I have been able to find some other times as well, which accounts for being slightly ahead of schedule.
Because I only started the chronological Bible reading today, I've left off that graph, figuring there's no point in cluttering up the post with a depressingly empty chart. I'm only up to January 1.
I'll be adding more projects as time goes on, though not all of them will be as quantifiable as these. That's a pity, because the charts and graphs really do help!