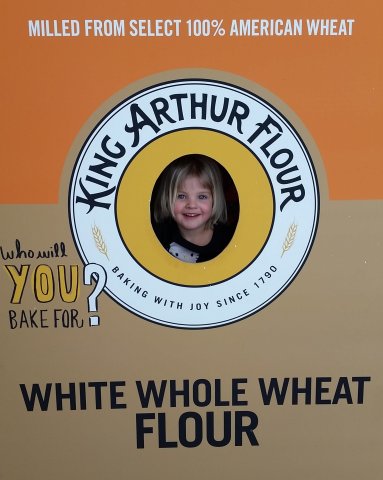 95 by 65 #38 (5 new restaurants, #2) and #48 (visit King Arthur Flour): Two flies with one swat. (This European expression is much more to my liking than our own, as outside of dinner I see little reason to kill birds. I have no such compunctions about flies.)
Our visit to the King Arthur Flour store, bakery, and café was Part I of our pre-Nathaniel-birth adventuring. (Part II, which contributed to #69, will be the subject of a later post.) KAF's products are good, though not inexpensive, and I loved getting a chance to visit their home turf. Even more, I loved that the employees were so friendly and generous, especially since their generosity came out of their own pockets: KAF is 100% employee-owned.
The food? I had a bite of Noah's sandwich, which was wonderful, but for myself had ordered a simple half-baguette. If you're taste-testing a bakery, you don't want to clutter up the basics with other flavors. My verdict? They do sell great bread in America, even if you'd never know it from the grocery stores and most restaurants. The café is also not inexpensive, so maybe it's a good thing we don't live close enough to eat there on a weekly basis. The temptation would be great.
I also enjoyed browsing the store, though I surprised myself by not buying anything. If I get another chance to visit the store, I'll be more prepared with a plan—and more suitcase room. There's just too much to choose from, especially with five kids anxious to get to the next stop on our adventure. In the meantime, there's always mail-order. And learning to make my own good bread.