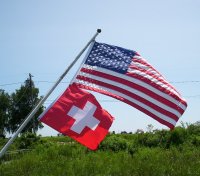 It has been more than 40 years since the U.S. military draft ended, and I believe many who did not live through it are in danger of not understanding how cruel it was. If not, why have I begun hearing calls for it to be reinstated? Military personnel are public servants in the fullest sense, and there's a world of difference between a servant and a slave. Military service is an honorable calling; who would want it defaced by the coercion of those who recognize neither the calling nor the honor?
When "mandatory volunteerism" came to our high schools, I was less than impressed. I know the Swiss require military training (or alternative service) of all their young men, but that's not one of the many aspects of Swiss life I'd like to adopt. Besides, if we were to try it in the U.S., I greatly fear the pressure to include women in the draft would be irresistible, and I see too many disastrous (if unintended) consequences to be at all comfortable with that.
Hooray for the all-volunteer military! May it stand until all wars cease.
But whether their deaths came in circumstances of chosen service or of forced servitude, it is fitting to remember and honor all who made the ultimate sacrifice.