Somewhere, in one of Glenn Doman's books, is an important clue to progress in any endeavour:
We arrange for the child to win.
Doman was dealing with severely disabled children. Forget walking—these kids couldn't claw their bodies forward two centimeters on a level floor. So he set them at the top of an inclined plane with a slippery surface. Suddenly, their random limb movements began to have an observable effect: they moved! Thus they began the critical process of associating their movements with results. Many of those children went on from that tiny beginning to learn to walk.
In an apparently radical change of direction, I bring you this article on Why Typography Matters—Especially at the Oscars.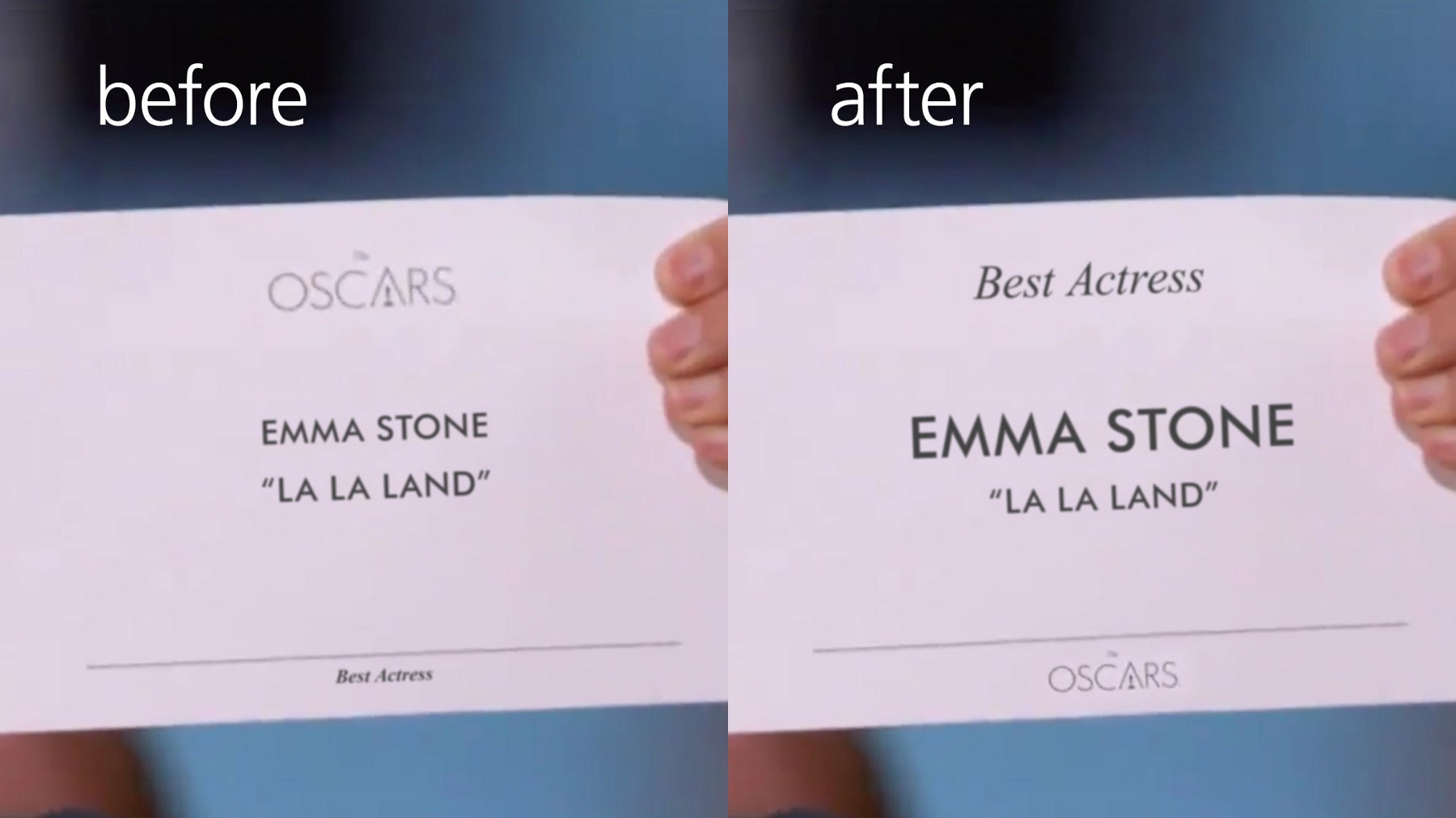 I never watch the Academy Awards shows, but apparently this year there was a major, embarrassing mix-up, with the best actress award winner's movie being announced as Best Picture. Designer Benjamin Bannister shows how the actual Oscar card (left) could have been designed (right) to greatly reduce the odds of misreading the card in all the excitement and bright lights. The card designer could have arranged for the card readers to win. A small change could have had great impact.
How often do we miss opportunites to make small changes that could arrange for our children, our spouses, ourselves to win? Do we somehow feel we don't deserve the help? If we have to spell out to our spouses how they can make us feel loved, it doesn't mean anything, right? Our children need to struggle for success, or else how will they grow? If we were the kind of people we should be, this—whatever this is—wouldn't be so difficult; it's cheating to make life easier for ourselves.
No, it's not.
Those immobile children who learned to walk succeeded because someone made it easier for them to make progress with their first efforts.
We use levers, wheels, pulleys, sharpened knives, WD-40 ... whatever tool or trick we can find to make our work go faster and better. That's the way progress is made. When our work goes more easily, we can do more. Plus, of course, we feel better about what we are doing and that makes us want to do more still.
Successful people work hard. They know how to delay gratification and don't indulge themselves in luxuries while building their businesses. What successful people don't do, however, is waste time with dull knives, broken pencils, worn-out machinery, people who drag them down, or anything else that hinders their productivity. They don't tell themselves, "I can make do, because I'm not that important, the work isn't that important, and I don't deserve to have better until I'm more successful with what I have." Tribulation breeds character, but unnecessary tribulation breeds frustration and failure.
What can you do to arrange for someone—yourself, your children, your spouse, a neighbor—to win? The cost might be much less, and the rewards much greater, than you think. Be creative. Until you see it, it's not obvious how an inclined surface might help a child learn to walk, nor how a small style change could prevent Oscar embarrassment.
Above all, don't wait to seek a better way until you or someone else deserves it. It's not about what we deserve; it's about setting ourselves up to do our best. If you're still stuck on your own lack of merit, think about your family. Don't you want to be your best—for them?