One of my goals for the coming 12 months is to re-read Charles Williams' The Place of the Lion (the only book of his I own), plus one more of his novels. Dorothy Sayers said,
To read only one work of Charles Williams is to find oneself in the presence of a riddle—a riddle fascinating by its romantic colour, its strangeness, its hints of a rich and intricate unknown world just outside the barriers of consciousness; but to read all is to become a free citizen of that world and to find in it a penetrating and illuminating interpretation of the world we know.
I'm pretty sure I won't manage all, but I can at least get past one, which did indeed leave me totally confused the first and second times I read it.
While on amazon.com, perusing offerings such as War in Heaven, Descent into Hell, and All Hallows' Eve, I came upon this: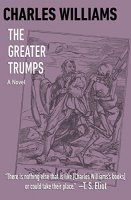 I'm pretty sure I'll go with one of his more well-known works, but the title does have a certain topical attraction. In actuality, it refers to tarot cards, but why let accuracy get in the way of a joke?
In this classic tale of spirituality, morality, and the occult, a dark plot to murder an unsuspecting Englishman who possesses the world's rarest tarot deck unleashes uncontrollable elemental forces.