If my memory serves me correctly, I have been to an emergency care facility twice in my life. Unlike my brother, who apparently volunteered at some point to take on the major injuries, up to and including appendicitis, for our family.
The first time was my freshman year in college, when in chem lab I splashed potassium dichromate in my eye. The second was last Saturday.
I keep my kitchen knives sharp. I mean really sharp. They don't get put away without a touch-up honing. This is mostly a great thing, but let me just say that I take issue with the conventional wisdom that you're more likely to cut yourself with a dull knife than a sharp one. Brief encounters with a blade, which would never have broken the skin in my pre-knife-sharpening-obsession days, easily draw blood. They quickly heal and never hurt more than a paper cut, but it's annoying to try to keep the blood out of the vegetables. I mean, there goes any hope of getting approval by the Vegan Authorities.
Back to the story.
As I said, any cuts I get are almost always very minor. Almost. But even great chefs make the occasional mistake. Blame my new glasses, blame my distractable brain that had just received some nasty news on the financial front—but on Saturday when I was cutting up vegetables for a stew, just for a moment I lost the ability to distinguish between a carrot and my thumb.
I knew immediately that it wasn't serious, but neither was it a wrap-it-in-a-paper-towel-and-forget-it affair. I had made a nice, circular slice that very nearly lifted the top off my thumb. It was not deep, but "deep enough." I'm familiar with skin flap wounds, and know they don't tend to heal well on their own; mostly they dry up and fall off. I judged this to be a little too much for that to be desirable.
Wouldn't you know, Porter had moments before detailed to me his agenda for the afternoon. I wrapped up my thumb to staunch the blood, turned off the two stove burners where pans were cheerfully sizzling with the start of dinner, walked into his office and began, "I'm sorry to derail your afternoon plans, but...."
Let me just say this about my husband. He can get bizarrely upset about the littlest things, like a traffic light turning red, or a dice roll going against him in a board game. But give him a real emergency and he suddenly becomes calm, cool, and focussed.
Having had his own encounter with finger wounds, for which a doctor later admonished him, "You should have had stitches for this," he never questioned the need for emergency care. It didn't seem the right thing to go to our primary care doctor for, and there's no way I wanted to spend all day in a hospital emergency room after being subjected to a COVID test. Instead, he phoned our local doc-in-a-box CentraCare facility and (having been placed on hold) started driving. I have no idea where we were in the queue, because we were still on hold when we arrived and walked up to the receptionist.
Other than the phone call, I have to say that from beginning to end our treatment at CentraCare could not have been better. The waiting room was not crowded, and even so I jumped to the head of the line. Apparently blood, even when you've cleaned up and stopped the bleeding with a neatly-wrapped bandage before leaving home, gets people's attention.
The nurse (?) who attended me was great, and knew how to put me at ease. We had a great conversation because she's an EMT and studying to become a paramedic, and of course I had to talk about the EMT's and doctors in our family. Having determined that my wound did, indeed, need stitches, she then went off to inform the doctor.
Thus began the longest wait, which only makes sense because there was no longer an emergency. And I have no complaints, because when the doctor finally arrived, he gave me the (no doubt erroneous) impression that he had all the time in the world to attend to my needs. That's a precious gift, and rare from a doctor.
Turns out I didn't get stitches after all. After soaking my thumb in a "surgeon's soap" solution while he went to check on someone else, he told me that the cut was so neat that trying to stitch it would do more harm than good. (Did I mention that my knife was really sharp?) Instead, he just glued the flap in place with some specialized medical skin glue, and gave me a splint to wear.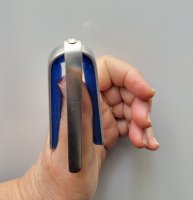 That little device is brilliant. For one thing, it makes the wound look so much more impressive, and more worthy of having received medical attention. But mostly, it is great at keeping me from re-injuring the thumb. Without it there to protect against bumps and other stresses on the healing skin, and to remind me pay attendion, I would probably have re-opened the wound dozens of times in the course of daily life. The biggest frustration is not being able to get the thumb wet for seven days, which means I have to miss our water aerobics classes. And have you ever tried to wash just one hand? I have a friend whose neice was born with but one arm, and apparently has always managed beautifully. (When she was a small child, her younger sister was heard to exclaim, "I wish I only had one arm, so I could tie my shoes, too!") Let's just say I'm more impressed than ever. I also have a gut-level appreciation for what we were taught in high school biology class: the value of our opposable thumbs.
On Wednesday I went back to CentraCare to be told that everything is going great. (But I still can't get it wet till Saturday.) I made a point of telling them how impressed I was with their service, from the receptionist to the doctor and everyone in between.
That doesn't change the fact that I'm willing to wait another 50 years for my next visit.
P.S. Our initial stay was short enough that the food left on the stove was still safe when we returned home. Porter took over the cutting of the vegetables, and the stew was great.