I couldn't bring myself to watch the speech that President Biden recently gave at my home-town Philadelphia's Independence Hall. That's not a partisan reaction; I generally try to avoid such events, and treated President Trump the same way. I prefer to judge presidents by their actions; their talk always makes me queasy.
But I heard so much about this one that I had to check it out for myself. Instead of watching, I read a transcript, which allowed me to leave behind the freaky red lights and odd Marine guard, leaving only the content to interfere with my blood pressure. Since many of my readers will not have seen the speech, and I don't want to have to deal with copyrighted photos, I'll attempt a brief description of the backdrop that sent me flying to the transcript.
The Independence Hall building was decorated in an ostensibly patriotic scheme: the middle red, the top white, and the sides blue. Unfortunately, the word that came to my mind was not patriotic, but garish. Angry, even. This was the long-distance view, which some have called more benign; the close-up shot, when President Biden was speaking, with his two Marine guards behind and to the sides, was a wrathful and intimidating red. If you question how a lighting scheme can look angry, you can find plenty of images online and judge for yourself.
I thought I'd walked into a dystopian movie scene. All I could think of was, "What are they trying to convey to the audience?" Every public encounter these days is theater, and I don't believe it was accidental. But I certainly don't understand it, especially for a speech that tried to invoke light and angels and the "willingness to see each other not as enemies but as fellow Americans." The only angel brought to my mind by the lighting was a fallen one. As one of my friends commented, "To what constituency was the eerie, hellish setting supposed to appeal?"
The speech, even extracted from the setting, left me with the same question.
As I said, there seemed to be an attempt to invoke something positive, with phrases like these: sacred ground; our better angels; all created equal; a beacon to the world; prosperous, free, and just; a nation of hope and unity and optimism; courage; free and fair elections; come together; unite behind the single purpose of defending our democracy; unlimited future; we can see the light; America's economy is faster, stronger than any other advanced nation in the world; there is not a single thing America cannot do; I've never been more optimistic about America's future.
Despite the attempt at portraying goodness and light, however, the impression left in my mind by the speech was very, very dark. The angry red color perfectly presaged the color of the speech, which even when the president was speaking of positive things used images of fire and burning.
"I'm an American President," Mr. Biden said, "not the President of red America or blue America, but of all America." That sounded hopeful. So did "The soul of America is defined by the sacred proposition that all are created equal in the image of God. That all are entitled to be treated with decency, dignity, and respect."
Unless you happen to be a "MAGA Republican."
Who are MAGA Republicans the president referred to so often in his speech? Despite his efforts to fit his opponents into some dark, backwoods corner of "extremism," the president has flung the tent of disfavor so wide as to cover half the country, including not a few Democrats like myself. I have never been a fan of former President Trump, but the further I went into this speech, the more I knew that neither he nor his supporters deserved the words President Biden tarred them with: equality and democracy are under assault; threatens the very foundations of our republic; extreme ideology; dominated, driven, and intimidated by Donald Trump and the MAGA Republicans; a threat to this country; do not respect the Constitution; do not believe in the rule of law; working ... to give power to decide elections in America to partisans and cronies; promote authoritarian leaders; fan the flames of political violence; a threat to our personal rights; a "clear and present danger"; embrace anger; thrive on chaos; live not in the light of truth but in the shadow of lies; will put their own pursuit of power above all else; inflammatory; dangerous; look at America and see carnage and darkness and despair; spread fear and lies; white supremacists; calling for mass violence and rioting in the streets; believe that for them to succeed, everyone else has to fail.
Having found the scapegoats, he urges the faithful to join him in stopping the evildoers: it is within our power, it's in our hands—yours and mine—to stop the assault on American democracy; we have to defend it, protect it, stand up for it—each and every one of us; there are dangers around us we cannot allow to prevail; I will not stand by and watch—I will not—the will of the American people be overturned; I will defend our democracy with every fiber of my being, and I'm asking every American to join me.
A call to arms? An incitement to violence? Despite words against violence (we do not encourage violence; we each have to reject political violence), it's hard to see the speech as benign. From the inflammatory lighting to the verbiage, the speech felt to me like an intentional threat. The president used the word "violence" ten times, "threat" nine times, and "MAGA" thirteen. In the midst of all this, his attempts at evoking light were, like the lighting behind him, garish rather than illuminating.
Whatever the intent was, whoever the constituency it was expected to appeal to, my own reaction was disgust at the hateful and harmful lies my president was willing to tell about his political opponents. And so of course I had to take action, to do something socially and politically significant.
I designed a t-shirt.
It was inspired by a comment of Porter's, and by stories of non-Jews who chose to don their own yellow stars when the Nazis began separating and demonizing their Jewish neighbors. I can't call myself a MAGA Republican, so....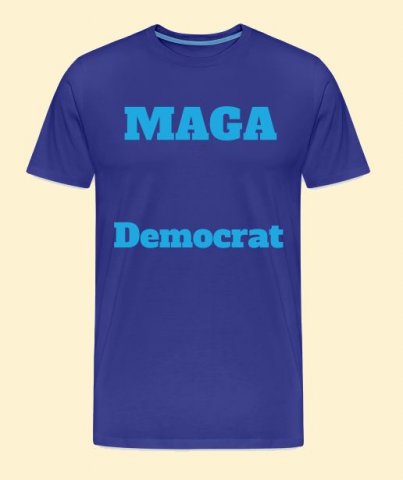 The best commentary I've heard about the speech is by Bret Weinstein and Heather Heying, about whom I'll have more to say in a subsequent post. Suffice it to say now merely that they are evolutionary biologists who tend to relate everything in life to their field, classical liberal academics whose observations often run afoul of modern academic dogma. Sometimes I agree with them, sometimes I disagree—but I always enjoy listening in on their discussions. Perhaps I like what they say here because they agree with me on some key points. :) I discovered their commentary only after I'd drawn my own conclusions.
The clip below is the one relevant here, from 1:06:41 to 1:24:05. If I've done it right, that's the part you'll see if you click on the embedded video.
I'll leave you with my favorite part of President Biden's speech, which may stand out as the single most truthful statement any president ever made:
Too much of what's happening in our country today is not normal.
How do we return to normal—or to something better? My own suggestion—possibly more helpful than donning a t-shirt—is that we need to get to know each other better on the ground level. It's easy to hate groups of strangers, not so easy to hate the person of polar-opposite political views who sings next to you in choir. There's also little as eye-opening as travel—what a tragedy it is that pandemic and inflation have crushed that impulse for so many. I can think of no better antidote to this speech than the experience of a good friend of ours, as liberal a Democrat as President Biden could wish for, who was in need of major assistance far from home, and was aided by the kindest and most helpful people—in a hotbed of "MAGA Republicans." I wouldn't wish her troubles on anyone, but if we all had more boots-on-the-ground experiences with our diverse fellow Americans, we'd find ourselves much less willing to demonize them.