I have been negligent in posting Hurricane Ian updates, perhaps because our preparations have been slow and methodical over time, and perhaps most of all because until recently it didn't seem to be that much of a threat to us. Now that is changed, and I find people looking here to keep an eye on us, so here we go.
This is the past and predicted path as of noon today.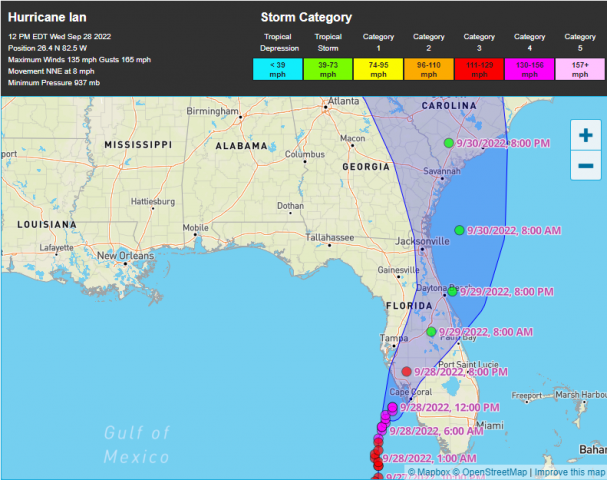 It doesn't pay to fret too much about a hurricane when it's still days away, because the models always change. We thought we would be mostly in the clear because it was predicted to hit land far north of us, and at nothing worse than a Category 1. How things change over time! Now it's about to hit Cape Coral as very nearly a CAT 5, and follow Interstate 4 right across the state. Very much like Hurricane Charley, which was a CAT 1 by the time it got to us, though Charley was much smaller and moved much faster. Ian is HUGE.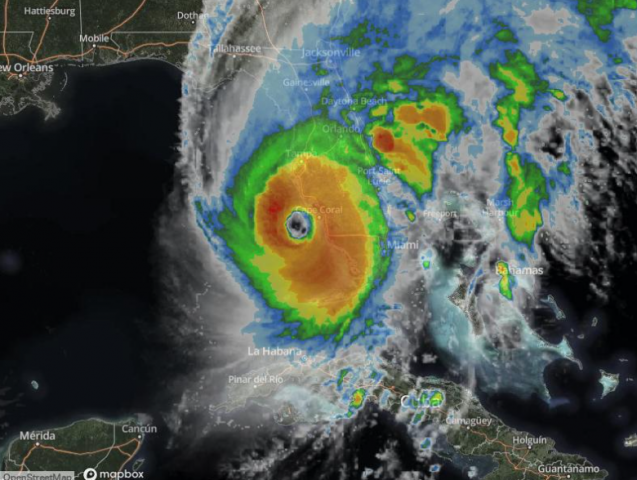 We're pretty much ready, having prepared, as I said, over time. Thanks to COVID, we didn't need to make any panicked grocery store trips. We even have toilet paper. The generator works. We have gasoline for the generator and in our cars. The freezers are organized and filled with both food and frozen jugs of water. We've brought in "flight risk" items from outside and our back porch, including the picnic table—you never know. Porter climbed on the roof to bring down our wind chimes. We have batteries; our phones, power blocks, and computers are charged. We've lowered the water level of the pool to accommodate the coming rain. Oh, yes, I still have to make my customary walk through the house taking pre-hurricane pictures. As soon as I post this.
Did I mention rain? We have had light rain off and on all day; we started feeling Ian's effects yesterday, well before landfall. We've had weeks of rain, so the ground is already totally saturated, leaving little room for the "up to 24 inches" expected before Ian is done with us. I'm grateful that our big trees are live oaks, which have deep and sturdy roots! They also tend to protect us by breaking up the wind. On the other hand, they have branches that may or may not stand up to the winds that we are expecting. I'd much rather have the trees than not; we're also counting on our abundant foliage to help protect our windows from flying debris.
Flooding is a big concern here, but not for us, as long as we don't want to go anywhere. We live on what passes for a hill in this part of Florida, though the rest of you might not even notice the elevation change.
That's about it for us, for now. I'll try to check in here occasionally, to keep loved ones updated and for my own records. The center of Ian is expected to arrive mid-morning tomorrow, but the serious effects will begin much sooner; indeed they have already started not far from here. As I said, just light rain for us, but some places in Central Florida are already without power, having seen some significant winds.
Right now I'm more concerned for our friends in Cape Coral. The first predicted path I saw showed the then-unnamed storm coming ashore there as a hurricane, but after that the forecast changed radically to the north. Turns out the original prognosticator was the better one.