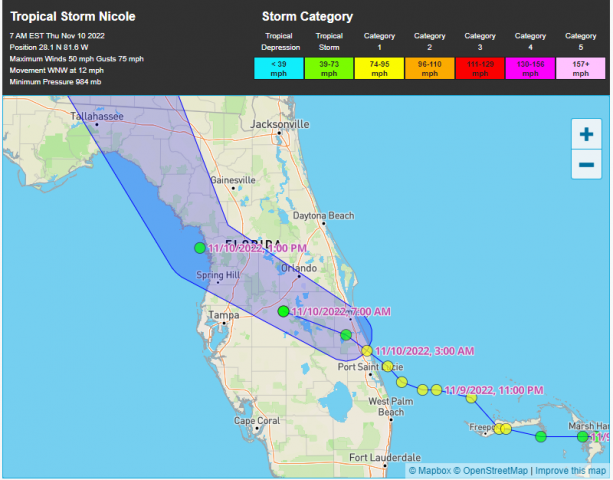 Nicole, having become a hurricane long enough to harrass the western Bahamas and southeast Florida, made landfall around 3 a.m. just south of Vero Beach, a little further north than we expected. I had been awakened a few times during the night by wind gusts and the steady sound of rain. When I got up for real around 4:30 (normal for me), it was clear that our decision to take in the wind chimes, orchid, and trash cans last night was the right thing to do, but everything else was fine.
Of course the day is not over yet; Nicole is currently around Davenport (where we ourselves were on Monday for a friend's birthday party), and heading our way at about 14 mph. But it's now a tropical storm again, and although we are still warned of gusts up to 70 mph, sustained winds where we are look to be less scary than predicted. (I'll take that!)
I greatly enjoyed a few early-morning hours on our back porch, watching what we've had so far from the storm. Because our porch faces west, and the winds were largely from the east, I enjoyed a safe haven with barely an occasional light breeze, while watching the trees whip around somewhat impressively.
Once again, the biggest damage to our neighborhood is likely to be flooding, but we haven't ventured out yet to investigate. Power outages usually come after the storm has passed, so we're not out of the clear there by any means.
Many thanks to those of you who have expressed your concerns, and offered their prayers. I expect to do at least one more update, more if anything untoward happens.