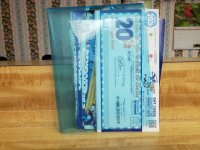 I liked Bed, Bath and Beyond. The prices were usually a little higher than elsewhere, but there was always a good coupon available that more than made up for it. Hands down my favorite part of their service was the warranty policy that gave me a brand-new toaster oven every time mine wore out, which happened at least twice over the years. There was no nonsense of a one- or two-year warranty, or even five. If it failed, they cheerfullly handed over a brand-new replacement. You can bet I preferred to buy my small appliances there, even though I never actually had occasion to replace any but the toaster ovens.
All that to say, I'm really sorry to see Bed, Bath and Beyond go.
You wouldn't believe from the size of my stack of BB&B coupons that I actually have thrown many away. But the local stores always honored them even if they were many years past their printed expiration date, so it seemed prudent to have a good stack on hand.
Now I guess I can finally recycle them all—a small bright spot in the gloom.