There's an Episcopal/Anglican magazine called The Living Church, which I'll admit I've never read and am therefore not endorsing nor repudiating. And the article I would point you to is behind a pay wall.
However, I here present to you the most important part of September's issue.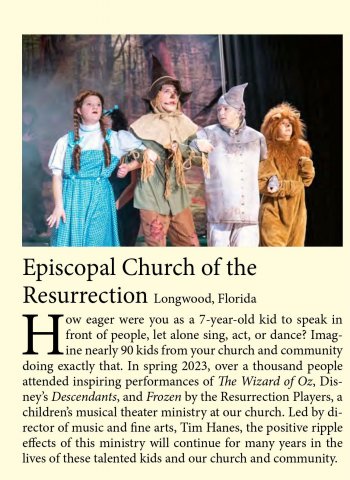 That's our church, our choir director, and one of our most important ministries. Resurrection Players draws children (and their families) from all over the area. Tim has an amazing talent for making children, from preschool through high school, comfortable with public speaking, singing, and dancing. (He's pretty good with adults, too.) If you ever want to meet a future Broadway star in his very beginnings, getting to know the kids in Tim's plays would be a good bet.
I wish this had been available for our children; at least one of them would have absolutely eaten it up. I'll bet several of our grandchildren would love it, too. But none of the grandkids is closer than 1300 miles away, and the program did not exist when our children were young.
However, that doesn't mean I don't appreciate this opportunity for those who can take advantage of it. It's not just about theatre and performing. It's about developing skills and confidence, and getting the whole family connected with a good community.