I love to cook, but that's something I keep forgetting. Maybe I need an audience; it hardly seems worth the time and effort when I'm eating alone, and even when I'm not we're usually so busy it hardly seems reasonable to spend much time cooking. But Porter keeps talking about how this is the best restaurant in town, so it seems only fair to work towards making that a reality. On Saturday, we had some of our favorite company over for dinner—the best kind to cook for, because they're always appreciative and don't mind being guinea pigs for whatever I want to try out.
Earlier this summer, my nephew had feasted us on Hazelnut-Crusted Chicken with Raspberry Sauce, a Bon Appétit recipe from Epicurious.com. The taste was even more amazing than this beautiful presentation (click on picture for larger view):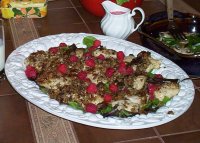 It was a recipe I knew I had to add to my repertoire, so that's what I served. Sort of. Well, actually, that was the starting point, but I never can resist changing things along the way. One of our guests doesn't eat meat, so I used salmon instead of chicken. I had the store take the skin off the filet, then sliced it into pieces about two inches wide. I could have bought hazelnuts, but had pecans in stock, and I used raspberry balsamic vinegar instead of white wine vinegar, canola oil instead of safflower, Cherchies' Champagne Mustard instead of honey mustard, Penzeys' Florida Seasoned Pepper for half the black pepper—you get the picture. And because it was fish, I baked it for about 20 minutes instead of frying it first.
Despite all the changes, the end result was still really, really good. I'm going to go raid the leftovers now....