The young lady at the grocery store was right: a chopstick makes a great cherry pitter.
Until I was nine years old, I lived in a small house with a yard that was small by American standards, but large enough to support four beautiful trees: two spruce, one maple that was the delight of my heart and the joy of my tree-climbing days, and one cherry tree.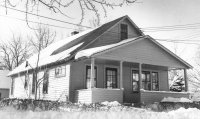 The cherry tree produced a gorgeous display of blossoms every year, followed by an abundant harvest of cherries. These were sour cherries, the kind used most often for pies, though to my child's tastes they couldn't get much better than straight from the tree into my mouth. The abundance, however, was more than I could consume, even had that been allowed, so I remember hours of sitting around the table with my family, pitting cherries to freeze for future pies. Despite the work, it was a delightful time because we were all together, working and talking and laughing. It is nonetheless a pity that we didn't discover the delights of Chinese food until after we had left the house and its trees behind.
The aforementioned young lady was standing at a table in the produce section, offering samples of cherries and Häagen-Dazs ice cream. I gladly took the cherries, but passed up the ice cream—not, I hasten to add, from any virtue, but because the carton displayed was banana-something-or-other. But when she suggested Honey Bee Vanilla instead, I acquiesced. My favorite ice cream remains the Swiss Mövenpick, but the smallest scoop of Honey Bee Vanilla in a tiny cup, graced with a couple of pieces of California Bing cherries...and I was nearly transported to Switzerland.
She did her job well: I left the store with two pounds of Bing cherries and a pint of Häagen-Dazs Honey Bee Vanilla. How could I refuse? The cherries were on sale; the reason I was near her table was that I was considering buying them already. Häagen-Dazs ice cream is another story: I've raised my standards of ice cream from the el cheapo variety I once enjoyed, but only as far as Edy's Double Fudge Chocolate Brownie or similar, and then only if there's a really good sale, preferably two-for-one. Häagen-Dazs is rarely in my price range. In this case, however, not only was the Häagen-Dazs on sale, but the delightful young lady handed me a coupon that brought the price of the pint down to 50 cents if I bought the cherries. Sold!
Honey Bee Vanilla is exquisite by all itself. A little experimentation at home proved that it also does wonderful things for fresh raspberries. And as soon as I finish this post I'm going to introduce my darling and hard-working husband—who has already today been on the roof to fix a leaking skylight, and torn the lawn mower apart to determine why it has gone on strike just in time for the opening of mowing season—to Honey Bee Vanilla and Bing Cherry Heaven.
The purpose of the promotion is in part to raise awareness of the threats to the honey bee population. Learn more at http://www.helpthehoneybees.com.
Oh, yes. Back to the original point. In preparing the cherries for our upcoming treat, I used a blunt-ended chopstick to remove the pits. Piece of cookie.*
---
*This expression was introduced to our family by a graduate student at Carnegie Mellon University, who had not quite assimilated the colloquial English phrase describing something easily done.