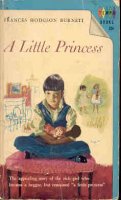 A Little Princess, by Frances Hodgson Burnett (Grosset & Dunlap, New York, 1965)
I picked this book up to re-read it because I needed an antidote to The Curious Incident of the Dog in the Night-Time. You can tell this particular copy has been in my library for a long time by the printing date above. The price on the book is 50 cents. The book itself was written in 1904, and can be found online.
Burnett's characters are as one-dimensional as most of Haddon's, and her heroine is a little too good to be completely believable. But "a man's reach should exceed his grasp, or what's a heaven for?" and the question of how much of our good behavior is merely a response to pleasant circumstances is by no means a shallow one. A friend of ours has a daughter who is very much enthralled by the Disney Princesses, an infatuation her mother wisely turns to a learning opportunity, reminding her as often as necessary that princess is as princess does. This is the theme that runs through
A Little Princess
, as Sara, sneeringly dubbed "princess" for her wealth and spoiled childhood, has her character tried through hardship. If the ending of
The Curious Incident
was unsatisfactory, that of
A Little Princess
is definitely contrived and coincidental—but at least it's fun. The book also wins points by making me wish to be a better person, an idea I'll return to in a subsequent post.