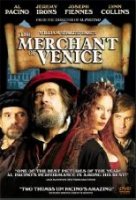 The Merchant of Venice (2004, Sony Pictures, directed by Michael Radford, R)
Not since Kenneth Branagh's Henry V and Much Ado about Nothing have I seen a movie that brings Shakespeare to life as does this version of The Merchant of Venice. I'm not familiar enough with the play to guess how much might have been left out, but as it stands, it is exceedingly well crafted and acted. Unique to this performance is the empathy I felt with all the characters; all are portrayed with a depth of humanity that made me care about what happened to them. The play is funny, tragic, poignant, and memorable.
The R rating is not as bad as might be: sexual suggestiveness that would go over the head of anyone I'd worry about, and some brief nudity that wouldn't. It's a pity movie makers don't think about children when they produce Shakespeare; the elements that keep me from recommending this to our grandchildren are not at all necessary for the film. Children can get value from the rest of a book, play, or movie while remaining oblivious to descriptions that adults can fully understand and appreciate without explicit portrayal.