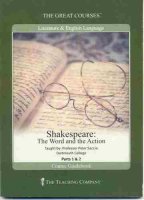 Shakespeare: The Word and the Action, by Peter Saccio; a Teaching Company lecture
For accessible, serious, high-quality, adult-level educational materials (DVD, tape, mp3 downloads) it's hard to beat The Teaching Company. Tonight we finished the last lecture of Shakespeare: The Word and the Action, a course which easily ranks as one of my favorites.
Here are the titles of the 16 lectures:
Shakespeare's Wavelengths
The Multiple Actions of A Midsummer Night's Dream
The Form of Shakespeare's Sonnets
Love in Shakespeare's Sonnets
Love and Artifice in Love's Labor's Lost and Much Ado About Nothing
As You Like It
The Battles of Henry VI
Richard III and the Renaissance
History and Family in Henry IV
Action in Hamlet
Coriolanus—The Hero Alone
Change in Antony and Cleopatra
The Plot of Cymbeline
Nature and Art in The Winter's Tale
Three Kinds of Tempest
History and Henry VIII
I find it easy to be intimidated by Shakespeare; despite the efforts of my high school teachers, the glories of the Bard didn't begin to open to me until a few months after my 50th birthday, when I saw Kenneth Branagh's version of Henry V.
Saccio's lectures aren't this inspiring, I will admit. But most of the plays he teaches I have never seen nor read, and every single lecture left both of us eager to experience the play, which is no small accomplishment. I highly recommend this course.