A night launch of the space shuttle is always worth waking up for, even if you have to do it two days in a row and put on a coat against the cold.
As usual, we watched the liftoff on television, then walked outside to catch the view as it rose above the horizon in the east. We were able to see separation of the booster rockets clearly, with a little low-tech optical enhancement. I gazed in wonder—and with no little sorrow to think that this is the last night launch, and nearly the last launch, period—until Endeavour slipped beneath the northeastern horizon, then returned inside to watch the shuttle's liberation from the external tank. Here's the view from our front yard. (Click to enlarge.)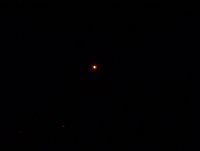 It may not look like much with my little camera, but it's a thrill that never gets old. You can see much more at the
NASA main site
, and
NASA television
.