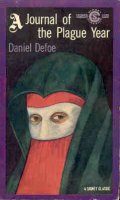 A Journal of the Plague Year, by Daniel Defoe (New American Library, New York, 1960)
I first read this as a requirement for school, I believe, though I remember nothing of it, not even the grade I was in. It has long been my theory that many schoolteachers take good books and make them boring, either by being bored themselves, or by presenting the books to students who don't have enough life experience to appreciate them. A Journal of the Plague Year is proof that some required books don't need any pedagogical interference to be boring.
The plague in question is the Great Plague of London in 1665. Defoe had been born about five years earlier, and wrote the Journal in 1722. It is a work of fiction, but written in such detail and with so much obvious research that it is impossible to tell where history ends and fiction begins.
It's not the history that makes it boring, but that Defoe writes as if he is being paid by the word. It's not that long a story, but at least twice as bad as a Presbyterian sermon, in which the same point is merely repeated two more times than necessary. The story of the plague and the Londoners' responses to it is truly interesting, but my eyes started to glaze over long before the sixth repetition.
In 1721, the plague was again sweeping across Europe and threatening England, which may have been Defoe's inspiration. He might even have written it by request, as he was at the time working for the government, but in any case he would have been keenly aware of the heightened public interest in such a book. Accordingly, it reads like part history, part political pamphlet, and part religious tract. The supposed author—a saddler,* like Defoe's own journal-keeping uncle—praises the governmental officials and high class people a bit overmuch, offers his suggestions for regulations and behavior in case the plague should return, and exhorts his readers in spiritual matters as seriously as any preacher. It's all quite interesting—the first and even the second time.
That the Journal is undated and not divided into chapters adds to the reading difficulty. I needed to mark my place carefully to be certain that the repetitive nature of the narrative was real and not an artifact of losing my place.
Is it worth reading? I'm not sure. It would be a good supplement to a study of the various outbreaks of the plague in Europe, or of the history of England during those times, or even of the nature of political propaganda. But I probably wouldn't insist that a reluctant reader finish it in its entirety.
You can read A Journal of the Plague Year online in your choice of versions, including this one at Google Books.
---
*A maker and repairer of saddles and other equipment for horses.