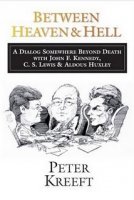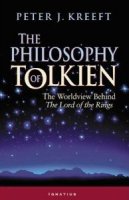 Between Heaven and Hell: A Dialog Somewhere Beyond Death with John F. Kennedy, C. S. Lewis & Aldous Huxley, by Peter Kreeft (InterVarsity Press, Downers Grove, Illinois, 2008)
The Philosophy of Tolkien: The Worldview Behind "The Lord of the Rings," by Peter Kreeft (Ignatius Press, San Francisco, 2005)
Someone recommended to me Peter Kreeft's Jesus-Shock. But our library doesn't have it, and before ordering it I decided it would be a good thing to sample his books that I could borrow—my previous experience with Peter Kreeft being pretty much limited to the banner we saw at MIT, advertising his upcoming visit. Hence the unexpected addition of two new books to my reading list while there are still so many at home waiting to be read! At least they are short books that didn't take long to read.
They probably should have taken much longer to read, as there's a lot of philosophy there, and philosophy is a subject of which I know very little. One benefit of both books is reducing that ignorance a little bit, as did the only other book about philosophy I've read, Sophie's World.
Between Heaven and Hell is the shorter of the two, and reads very quickly. It is set up as a Socratic dialog among John F. Kennedy, C. S. Lewis, and Aldous Huxley, who died within hours of each other and represent what Kreeft calls the three most influential philosophies of life: modern Western humanism, ancient Western theism, and ancient Eastern pantheism. The dialog is somewhat rigged by Kreeft's obvious sympathies for Lewis, but that doesn't stop it from being a clear presentation of the various philosophical issues and differences.
Of the two, The Philosophy of Tolkien is my favorite. For someone who loves Tolkien's works, and especially The Lord of the Rings, it is an interesting glimpse into the man behind the books, and his way of thinking. Someone who doesn't already love the books, however, might find it a bit dry, though like Between Heaven and Hell it is also a good examination of some basic philosophical issues. Kreeft tackles 50 questions, such as Does God Exist? Are angels real? Is nature really beautiful? Is death good or bad? Is there real magic? Is knowledge always good?, Is beauty always good? Why is music so powerful? Is small beautiful? How powerful is evil? and Does mercy trump justice? His approach, as he explains in the introduction, generally uses four tools:
an explanation of the meaning and importance of the question;
a key quotation from The Lord of the Rings showing how Tolkien answered the question (many more passages are given in the Concordance to The Lord of the Rings in the Appendix);
a quotation from Tolkien's other writings (usually a letter) that explains or comments on the theme in The Lord of the Rings;
a quotation from C. S. Lewis, Tolkien's closest friend, showing the same philosophy directly stated.
The promising Concordance is less useful if you, like me, have a different version of the book(s) from Kreeft. With the help of Everyman's Reference Book, the Internet, it can be handy for anyone. That's the way I was able to find the source of one of the many quotations, my Motto of the Week, the wise counsel of Gandalf:
To cast aside regret and fear. To do the deed at hand.