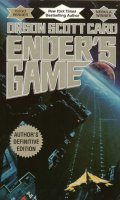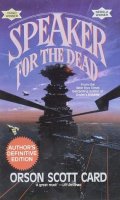 Ender's Game, by Orson Scott Card (Tor, New York, 1991)
Speaker for the Dead by Orson Scott Card (Tor, New York, 1991)
The short story version of Ender's Game was written back in 1977—more than 30 years ago—and even the novel is 25 years old. That was right when my reading interests veered sharply from science fiction to children and education, so I missed Orson Scott Card entirely until now. Extended visits for the birthing of grandchildren put me in contact with other people's libraries: it was at the birth of another grandchild that I discovered The Hitchhiker's Guide to the Galaxy and finally learned the significance of 42.
Both Ender's Game and Speaker for the Dead are riveting stories. Although the author feels the latter to be more important, and indeed chose to expand the original short story of Ender's Game only because he needed a prelude to Speaker for the Dead, I liked the former much better.
Card claims Isaac Asimov as his inspiration, but I detect more than a few traces of Robert Heinlein. The respect for the abilities of children, the school settings, and the military motifs in Ender's Game remind me of much of what I liked best from Heinlein, notably Space Cadet, Tunnel in the Sky, and especially, Starship Troopers. (I've not seen the movie version of ST, but it doesn't surprise me to hear that you shouldn't judge the book by the film.) The amalgam of humanist and New Age worldviews at the end of Ender's Game and throughout Speaker for the Dead remind me of Heinlein's works that I did not like, such as Stranger in a Strange Land. Like Heinlein, Card is a better storyteller than philosopher.
That Ender's Game must have had a special hold on me will be obvious to those who know how much I dislike both the boarding school genre (the early Harry Potter stories won me over in spite of their setting, not because of it) and reading about battles and military strategies (I haven't yet made it past the beginning of The Iliad). The hook was Card's obvious (personal?) knowledge of the problems of bright children in a world that is more likely to abuse or exploit than to understand, help, or befriend them. Adding boarding school woes—of the sort that made C. S. Lewis write, "If the parents in each generation knew what really goes on at their sons' schools, the history of education would be very different"—exaggerates the problem, but sometimes a situation must be overstated to be noticed.
I like books that inspire me, and Ender's Game does—much more so than Speaker for the Dead, which I'm sure was intended to be the more inspirational. Knowing little about leadership, as a subject, I found Card's treatment of it fascinating, and even the game-playing and battle-winning strategies were educational. Perhaps what affected me most was Ender's skill at turning everything that happened to him into something that made him stronger and better, and the way he patiently endured pain as long as it enabled him to learn.