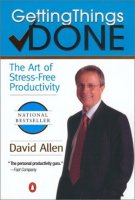 Getting Things Done: The Art of Stress-Free Productivity by David Allen (Penguin, New York, 2001)
For now, I can't do any better than to refer you to Janet's review of Getting Things Done. I found it a difficult book to read, even unpleasant, because it's not well written, and makes my mind feel like a hamster on a wheel: running a lot but not getting anywhere.
But if Allen's book is disappointing, his ideas still inspire me—even if I did have to come at the ideas the wrong way around, from what other people have said about them. Most inspirational was seeing Janet's version of the system in action, though I know I would have gotten more out of her explanations—and maybe out of the book—if I'd attempted to implement some of the ideas myself, first.
The book wasn't nearly as much fun to read as Don Aslett's books on controlling clutter, but I think they have a lot in common. Getting Things Done is a lot about controlling the clutter in our minds.
"What's the next action?" The answer to Allen's favorite question is, "Implementation." But that's not really an answer, since "implementation" isn't a discrete action, but a mammoth project. I hope to accomplish some baby steps this week, and—eventually—report back on the results.