I am republishing my initial comments, made in December 2008, when I checked The History of the Ancient World out of the library then discovered I didn't have time to read it. Now, nearly two years later, I have finally read the book, and my additional comments are added below.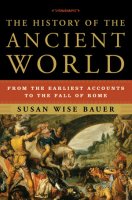 The History of the Ancient World: From the Earliest Accounts to the Fall of Rome, by Susan Wise Bauer (W. W. Norton, New York, 2007)
Despite having some initial negative reactions to Susan Wise Bauer, I've continued to find her work delightful and invaluable. (See my reviews of The Well-Trained Mind, The Story of the World, and The Well-Educated Mind.) I haven't read more than a small part of The History of the Ancient World, but borrowed it from the library in order to determine whether or not to buy it for myself. I've so enjoyed—and learned from—listening to Jim Weiss read The Story of the World, which was written for elementary-age children, that I wondered if Bauer could bring as much delight into a history book for adults.
Time does not permit me to read through the book, much less review it properly, but let's just say I wish I didn't have to take it back to the library as soon as possible to remove temptation. The History of the Ancient World is delightful to read. Much of the delight, I think, comes from the philosophy of her approach, which she explains much better in the introduction than I have time to write, or even to copy, here. Bauer is interested in people: their lives, thoughts, fears, hopes, dreams, actions, and relationships. She minimizes the general and the theoretical in favor of the personal, and includes the myths and stories of a culture as well as verifiable facts. The stories that have come down with a people from before recorded time should inform our historical speculations as much as potsherds from an archeological dig.
This approach no doubt will anger many, some because she finds historical value in passages from the Bible, and others because she gives similar respect to the ancient stories of other cultures. To me, it makes for great story-telling. The History of the Ancient World has earned a place on my wish list, perhaps for the next time Borders offers me a 40% off coupon, and I certainly hope Susan Wise Bauer is working on a sequel.
UPDATE, 1 September 2010. Bauer was, indeed, working on a sequel, and managed to finish writing The History of the Medieval World: From the Conversion of Constantine to the First Crusade before I finished reading its predecessor. I've already purchased it, and am looking forward to diving in. But first, some thoughts on this one.
I enjoyed The Ancient World a good deal, though I expect to enjoy the Medieval book more because of the time period. I find stories of kings and battles and political intrigue interesting up to a point, but ancient times take me to that point rather quickly, as often that's about all we know about them. Bauer does a good job of trying to put flesh on the bare bones, but it's still pretty much "second verse, same as the first." And third, and fourth, and nth.
I can't help feeling the same way about the Old Testament of the Bible at times, too. One thing Bauer's book has done is to give me a much better feel for the context in which the Old Testament events took place, and the knowledge that as gruesome and cruel and bizarre as they sometimes are, it helps to know that the OT stories are nowhere near as gruesome and cruel and bizarre as stories from the rest of the ancient world. There's a limit to how much improvement even God can make in human beings all at once, I guess. Or, to paraphrase C. S. Lewis, before you can judge where someone is, you have to know where he came from.
Speaking of the Bible, in parallel with Ancient World I've been reading the Chronological Guide to the Bible, as part of Thomas Nelson's review blogger program. (So you'll see a review here when I'm done, but I've only just started the New Testament section.) That was a brilliant move on my part, as the books dovetail and complement each other nicely.
But back to Bauer's book. My head is swimming with dates and places and unpronounceable, highly forgettable names. It will take a lot more learning before I can say I have a good picture in my head of the ancient world. But I now have a good sketch, and that's better than any of my history teachers were able to give me. I especially like Bauer's attempt to cover more of the world than just the Middle East and Mediterranean countries, though if I can't keep the Roman rulers straight there's no hope of remembering China's and India's. Helpful parallel timelines attempt to provide mental links from one culture to another.
I'd give The History of the Ancient World an R rating for sex and violence, but anyone likely to be overly disturbed by reading what those ancient kings did to their enemies—and with their friends—probably won't be reading an 800-page history book.