Micro Mobility Systems makes classy scooters, and look what I discovered when I ventured onto their website from a FRK article: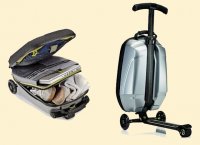 I like to take the bus to the airport, but the mile and a half walk to the bus stop is hard on luggage wheels. They're not designed to take long distances on concrete. But this is! It's a scooter, zipping one to the bus stop and then folding to cabin-baggage size.
On second thought, it wouldn't really solve my problem, as cabin-baggage isn't that hard to haul to the bus; my real problem comes whenever I have to bring a bag big enough to check—the weight is much greater and the wheels no better. With Lufthansa having an 18-pound carry-on weight limit, the scooter part probably adds an unreasonable amount of overhead, anyway. But it's still a cool idea.
Micro Mobility's scooters in general look pretty classy. They might make a nice addition to bicycles and trams in the Swiss commuting arsenal.