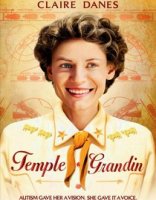 Temple Grandin (HBO, NR)
Why are you reading this post when you could be rushing to your nearest video store (is that phrase as passé as "dialing a phone number"?) and grabbing a copy of Temple Grandin? It would be trite to say that this is one of the most amazing and inspiring movies I have ever seen, though it is. It would be understatement to say that Temple Grandin is an incredibly amazing and inspiring person.
"Highly functioning autistic" doesn't begin to describe this brilliant visual thinker—and university professor—whose humane designs have revolutionized livestock handling. My introduction to Temple Grandin was through her TED lecture, The World Needs All Kinds of Minds. That's a good place to start, but don't miss the movie. (As far as I can recall it is completely grandchild safe.)
Normally I don't care for the DVD special features that make you watch the entire movie again to hear the commentary; I love learning about how the movie was made, but prefer it in condensed form. Here it's well worthwhile taking the extra time, because unlike many DVD commentaries, there's very little inanity—and most of all because one of the commentators is Temple Grandin herself.
It was a little disconcerting to note how well I understood some of her problems; enough so that I took this autism spectrum self-test I found in Wired. The results were as I suspected: I'm not close to the diagnostic level, but well above average.
I'm looking forward to reading some of Grandin's books, having ordered The Way I See It: A Personal Look at Autism and Asperger's, and Animals Make Us Human: Creating the Best Life for Animals from our library.