On Monday, Vivienne received the blessing of the Swiss government; today we travelled to the American Embassy in Bern for a simlar benediction from the United States. As I did when Joseph was born, I came along to hold diaper bags and other items not allowed in the embassy, which includes purses (or bags of any sort) and cell phones (or electronics of any sort). Fortunately, winter coats were acceptable, as were a couple of diapers stuffed in the pockets.
Really, it's a very un-welcoming experience, a visit to this little bit of American soil in Switzerland. Embarrassing, when you think of the impression we are making on others. (Okay, so Hollywood does a worse job, but at least they're not official.) There is no waiting room, unless you count the small antechamber outside, where those waiting in line are subjected to the summer's heat or winter's cold—though a roof provides some protection from rain, if it isn't too windy.
But we were prepared. Joseph and I were well-dressed, and had the stroller with us. As soon as Vivienne and her parents passed through the security check, he and I started out on our adventure.
Last year I was alone, and spent most of the waiting time in a cafe, drinking tea and writing, because that was more fun than exploring the city in a downpour. With the temperature in the mid-teens (Fahrenheit) there was no risk of rain today—though we did have light snow, so Joseph and I headed up the hill to the more famous parts of Bern, including the Bundeshaus (Swiss equivalent of our White House and Capitol Building) and the Zytglogge (medieval clock tower).
The shops of Marktgasse were much as I remembered them: hideously expensive and filled with things I wouldn't want to buy anyway. But we did stop a Coop City to look at t-shirts, buying nothing because they were a third more expensive than similar shirts in Luzern. Joseph, on the other hand, thought Marktgasse was great, because of the heavy tram traffic. He never uttered a word of complaint about the bitter cold, but any time I turned the stroller away from a passing tram, I heard about it!
Did I mention that it was c-o-l-d? Here's the fountain at which we refilled our water bottles. (As usual, click on the pictures for a larger view.)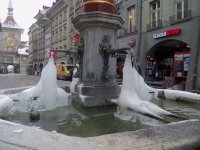 After we had been gone over an hour, I thought it time to wend our way back to the Embassy. Here's a park we passed through—and the same park a year and a half ago, in the summer.
When we arrived back at the Embassy, I stopped on the street, hesitating to bring the stroller up into the (semi-) sheltered area, because we had no official business there. But one of the security guards recognized us, and told us to come on up, because it was too cold to wait on the street. Of course, it would have been really nice if he had invited us inside, but that was beyond his power, and I was grateful enough to be sheltered from the wind.
Less than 10 minutes later, the new American citizen was back on Swiss soil, and our adventure ended, seven hours after it began, with some very welcome hot cocoa at home.
I've enjoyed all my visits to Bern, but may I suggest that the next baby be born in the spring or in the fall?