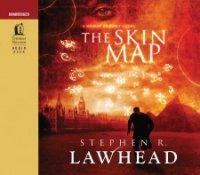 The Skin Map by Stephen Lawhead (Thomas Nelson, 2009) (audiobook, read by Simon Bubb)

I review books for the publisher, Thomas Nelson. I've never before reviewed their fiction, because, frankly, it usually doesn't sound all that interesting. However, this offer made me sit up and take notice, because I've enjoyed Stephen Lawhead's work before. Add the fact that what was offered was the audiobook version, and I was hooked: I figured it would be just the thing for my upcoming long flight across the Atlantic.
I was wrong about that part. Over and over I repeated the pattern: Listen, doze off, awaken in a different part of the story, doze off, etc. Not because the story wasn't interesting, but because I needed sleep more than I needed entertainment.
Home again, I started the story anew, and found it a wonderfully inspiring accompaniment to my daily exercise walk. The prospect of hearing a few more chapters of the book was just the incentive I needed to get out and get going. Plus, it's really hard to fall asleep while walking.
Lawhead takes the concept of ley lines as his jumping off point (literally) in this tangled adventure of multiple realities. Or perhaps one reality that is infinitely more complex than we have supposed. Ley lines were new to me—I was as ignorant as his long-dead great-grandfather found protagonist Kit Livingstone to be. In The Skin Map, the power of ley lines is discovered to be, not legend, but cold, scientific fact, and a wrong turn one day in London takes Kit from his directionless, boring existence into adventure, danger, and more directions than he fears his mental health—and his stomach—can handle.
Without doubt, it was easy to be caught up in the adventure, and the mystery. But my favorite parts of the book were its well-researched intersections with everyday life: in modern England, 17th century England, 17th century Prague, Macao during China's Qing dynasty, 18th dynasty Egypt, and more. My least favorite were the drawn-out descriptions of the physical appearance of every female character encountered, and the even more interminable battle scenes, both of which were obviously included for the more testosterone-laden among us.
Therein lies the weakness, and the strength, of the audio version. Were I reading, instead of listening, I'd have quickly skimmed over those parts I found dull; instead, I was forced to wait, impatient, through them. On the other hand, I would probably also have given short shrift to the many highly descriptive scene-setting passages, and this format forced me to listen, to enjoy, and to appreciate a much more vivid picture of each setting than I would have envisioned on my own. Narrator Simon Bubb also does a fantastic job of bringing the characters to life through their voices, making this audio version an enhancement, rather than merely a slower and more laborious—albeit hands-free—way of reading the book.
On my own personal scale, The Skin Map is not nearly as good as The Lord of the Rings (one of my favorite stories of all time), and a whole lot better than Harry Potter (which I enjoyed, though less and less, I'll admit, after the third book). It's an interesting concept, a riveting story, and well-written to boot. True, there were times when I sighed, "Oh, come on, that's not plausible"—but that tends to happen to me even with nonfiction books. Astonishingly, for this age, Lawhead manages to craft a complex and engaging tale without ever being offensive, edgy, or over-the-top. I can't say for certain that there are no "grandchild warnings"—I'm pretty sure "bloody" occurs a few times, not related to battle scenes—but any potentially offensive language is rare, minor, and appropriate to the context.
The book is not short—448 pages in printed form—but the end came long before I was ready. Really, it seemed the story had just gotten started! That was when I discovered the sad, and happy, truth: the book was over, but the story had only begun. The Skin Map turns out to be the first of what is intended to be a five-book series. Fortunately, the second is available at the library, and this morning I reserved it. The third, however, has yet to be published....
The Skin Map is not a movie—though I think it would make a good one—but it has a "trailer" anyway. Who knew?
15 October 2013: I've closed comments due to an incredible amount of spam to this post. If you have something to say, send it in an e-mail and I'll do what's necessary.
---