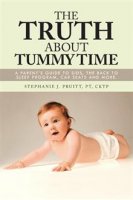 I haven't read the book myself, but was thrilled to find this review of The Truth about Tummy Time: A Parent's Guide to SIDS, the Back to Sleep Program, Car Seats and More by pediatric physical therapist Stephanie J. Pruitt. It's about time someone from the medical profession admitted that Back to Sleep has led to a significant rise in physical problems and developmental delays in our children.
What I find especially interesting is that Back to Sleep is only part of the problem. See this article, Shackles for Babies, particularly the comments that follow from another pediatric physical therapist. Babies are being left on their backs during the day as well as at night, despite the known value of "tummy time." What's much worse, many are kept for hours on end in baby entertainment devices and rigid baby carriers that keep them in unnatural positions and do far more damage than leaving them on their backs, but free to move. Scary.
Even the strictest adherents of Back to Sleep can make a point of giving their babies freedom to move the rest of the hours of the day.