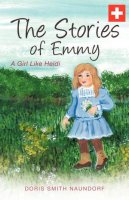 The Stories of Emmy: A Girl Like Heidi by Doris Smith Naundorf (Xulon Press, 2010)
Doris Smith Naundorf is known in upstate New York as The Story Lady. The Stories of Emmy are taken from her one-woman play, Interweaving the Generations. Emmy, Doris's mother, grew up partly in her Swiss village of Muttenz, and partly in Paterson, New Jersey, where her family moved when she was ten years old. Her stories give a delightful glimpse into Swiss, American, and immigrant life in the early 1900's. (Grandchild warning: There is one sad incident requiring parental discretion; the stories are meant to be appropriate for chidren, but reality is sometimes harsh.)
Muttenz is near Basel (four minutes by train, a century later), and the stories are sprinkled with Baseldeutsch, the delightful Swiss-German dialect spoken there. A glossary is provided for each chapter.
Driving the several blocks to the train station, Emmy excitedly chattered to her father. "Will we get there in time, Vatti? she asked. "Mutti says we must be there early, so we will not miss the train."

"Jo, jo," replied her father. "In a country that makes such fine watches and clocks, of course the Zúúg runs on time. It is up to the passengers to be there early so the conductors can keep their schedule."

"The Zúúg, the train, is never late?"

"Of course not! We Swiss cannot even imagine such a thing!" her father assured Emmy.
I couldn't resist finding Emmy, age 20, and her family in the 1920 census. (Click on the image to view a version large enough to read. Their name, Lüscher, appears without its umlaut.)