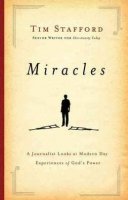 Miracles: A Journalist Looks at Modern-Day Experiences of God's Power by Tim Stafford (Bethany House, 2012)
Do you believe in miracles? If you believe they've happened in the past (manna in the wilderness, Jesus's resurrection, the healings of Paul), do you think they died out early in the history of the church, or are there miracles today? Why do we talk about "belief" with respect to miracles? Are miracles matters of faith only or can they be tested and proven or disproven? Just what is a miracle, anyway?

I believe that Copenhagen exists. I've never been there, but Porter has. I've seen pictures of Copenhagen, and read about it, and can easily access all sorts of documentation as to its existence. What's more, even if I doubt all these sources, I can hop a plane and end up in a city where the people speak Danish and claim to be living in Copenhagen. (Or not; who knows? I haven't tried it.)
Tim Stafford would like to be able to put the idea of modern-day miracles to the Copenhagen test. Actually, he's been to Copenhagen, as it were, having observed what he considers to be a bona fide miracle of healing in a (formerly) wheelchair-bound friend. But there's a lot of chaff—wishful thinking, outright fraud, and honest prayers that go unanswered—in the miracle wheat field. Many people board the plane and end up in Oslo. Or in the Pacific Ocean.
Stafford, a journalist by profession, examines reported miracles from ancient history to the present, from his own backyard to Mozambique. His investigations are open-minded, and his conclusions open-ended. The evidence for modern-day miracles he finds convincing, but not overwhelming. Moreover, he comes to the counterintuitive conclusion that it is in the very nature of miracles not to be overwhelming.
Here are my takeaways from Miracles:
Any consideration of the miraculous will be hindered by fuzzy definitions. We confuse the issue by calling a lovely sunset or the birth of a baby a "miracle," when they are in fact marvellous, awesome, but ordinary works of God.
Most of us, if we don't think about it too much, tend to divide events into the natural (the way the world works, maybe set in motion by God but moving along on its own, explainable by physical laws, whether or not we have discovered them) and the supernatural (direct intervention by God/gods/angels/spirits, not measurable or explainable—miracles). For a Christian, however, that's a wrong way of thinking: the natural, too, is God's present, ongoing work. All healing is God's healing, all life is his, the provision of bread through planted wheat no less from God than manna from heaven.
Miracles, by Stafford's definition, happen when God does something unusual, or in an unusual way. Dead people do not normally come to life again. Wine-making always begins with water, but in the miraculous version the long process using grape vines and fermentation is side-stepped.
God acts physically in our material world. That an event can be "explained" by processes we understand, or hope to understand in the future, does not ipso facto mean it is not miraculous. It is the unusual, "signs and wonders" aspect that signals a miracle.
One often-overlooked property of miracles is that they are rare. If the Bible seems replete with miracles, it's because it covers a long time span. They are also unevenly distributed, with some peak times when miracles are more frequent being scattered amongst long stretches of no recorded miraculous activity.
God uses miracles to catch our attention. They are "signs and wonders." But they never point to themselves, always to Christ and the Kingdom of God. A focus on miracles for their own sake is a pretty good sign of a wrong attitude.
Also suspect is the suggestion that a specific formula, method, person, or icon can somehow force God's hand to work miracles. Not only is the occurrence of a miracle unpredictable, but God seems determined to change up the means: strike the rock for water, speak to the rock for water; heal by touch, heal by spoken word alone, heal using clay and spittle, heal by washing; provide food by multiplying flour and oil, provide food by multiplying the bread itself; etc.
Both historically and in the present, most genuine miracles appear purposely directed at small groups of eye witnesses. In fact, the idea of doing something miraculous that could be directly attested to by large numbers of people seems to be a temptation Jesus specifically rejected (Matthew 4:5-7).
Despite several occasions at which Jesus connected healing with faith, the Bible provides plenty of evidence that true faith is neither proved by miracles nor disproved by their absence.
The search for miracles, then, is less like taking a flight to Copenhagen, and more like quantum physics: real, astonishing, unpredictable, complex, and not for the faint of heart. Stafford's Miracles is a good introductory course.
---