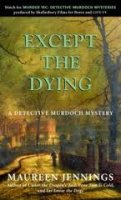 Except the Dying by Maureen Jennings (St. Martin's Press, 1997)
I had been looking forward to reading the first of Jennings' detective stories, the inspiration for the Murdoch Mysteries television series; as I stated in my review of the shows, I'd hoped the book would be less anachronistic than the TV version. In that I got my wish: Except the Dying presents a much more believable view of the seamy underside of late 19th century Toronto. Much to my surprise, however, I plan to continue to enjoy the shows without reading any more of Jennings' other stories.
The movies are perhaps the greater more pernicious lie: the prostitutes are clean and well-mannered; the abortionists are thoughtful, civilized gentlemen; the streets are free of manure and of emaciated children; not a spittoon nor a chamber pot is to be seen. Which is worse, to make the darkness light or the light darkness? The book's lurid detail of evil and filth overwhelms the story, and stains the small glimmers of goodness. How I long for the more restrained writers of the past, who could describe a cesspool without making the reader feel as if he had fallen into it.
Except the Dying is not a terrible book. Jennings writes well, and with more historical accuracy than the TV writers. But as for me, I have had enough. There are more uplifting books waiting to be read.
---
Whenever I see a title that looks as if it comes from something I feel I should know, I renew my gratitude for Google. (Google the search engine, that is, even though I have mixed feelings about Google the large company.) Except the Dying is from a poem by Emily Dickenson:
The last night that she lived,
It was a common night,
Except the dying; this to us
Made nature different.