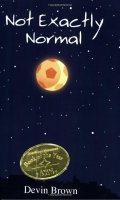 Not Exactly Normal by Devin Brown (Eerdmans, 2006)
As often happens at the Maggie P., we had some "relatives of a relative" come visit yesterday. One of them, a nine-year-old boy, brought with him this book. I picked it up, read a page, became intrigued, and then spent my spare moments devouring it before the family had to leave.
I appear to be on a roll here. Like The Silent Swan, which I also read and reviewed recently, Not Exactly Normal is a book written for young people, set in a school (middle school age this time), from a Christian perspective ... and I liked it! Two Christian authors in a row who include faith in their books naturally and reasonably, without the awkward, embarrassing, beat-them-over-the-head language of so much recent Christian fiction! Who'd have thought? Even though Not Exactly Normal deals with important philosophical issues, it is not what people think of as a religious book. It's a human book. And one with which I can identify much more than most books written for young people these days. One Amazon reviewer said,
I wonder whether the erudite family and school setting he is privileged to have would be something a "typical" American middle-schooler could really relate to.
But the family (though sadly, not the school) experiences are exactly why I relate to it—and not to most of what's out there. As the same reviewer also said,
Any text that includes discussion of John Donne's poetry, background on Good King Wenceslas, Pele and Mia Hamm, and excerpts from T.S. Elliot's Old Possum's Book of Practical Cats in a way that younger readers can understand and even enjoy is definitely to be recommended.
And, I might add, computing square roots by hand. (Taught in the classroom, though unfortunately not demonstrated in the book.)