It takes a rich, greedy capitalist to grind the poor into the dust, right? Certainly over the years many have done a very good job of that. Our recent viewing of the documentary, Queen Victoria's Empire, drove home the disastrous consequences of both imperialism in Africa and the Industrial Revolution back home in Britain.
However, the same video also revealed the devastation that can be wrought by someone with good intentions, even against his will (e.g. David Livingstone), and especially when combined with the above-mentioned greed (e.g. Cecil Rhodes).
Which brings me to the point. I cannot count the hours and hours of struggle Porter has put into getting us health insurance in these post-retirement times. Without a doubt, I am personally grateful for the choices the Affordable Care Act (a.k.a. Obamacare) offers us, as much as I philosophically fear its negative consequences. Some of those negative consequences are personal, too: e.g. the colonoscopies that had been covered by our insurance in the past no longer qualify for coverage because of new rules instituted by the ACA. And we can't afford to get sick until after the end of January, because the "helpful" phone contact assigned us the wrong Primary Care Provider, and the fix won't go into effect till February 1. However, I admit to no longer hoping for repeal of the ACA, because the damage has been done. Too many people, including us, are now dependent on it. I doubt we can put the genie back in the bottle.
While I freely acknowledge that the passage of the ACA had at its heart noble ideals and good intentions, I'm not convinced it's really helping the poor, or at least not as much as it's helping people who get rich off the needs of the poor. Porter, being retired, has the time to put into navigating the complex and exceedingly frustrating waters. He also has a degree in economics and a mind well-suited to financial calculations. Which convinces me that the truly impoverished will (1) throw up their hands and settle for a much less than optimal health care plan, or (2) fall prey to those who would profit from doing the paperwork for them, while charging inordinate fees and still coming up with a less than optimal plan.
Nonetheless, the purpose of this post is neither to start a political discussion nor to depress you. It's to honor my husband, for whom Sunday's Animal Crackers comic could have been created: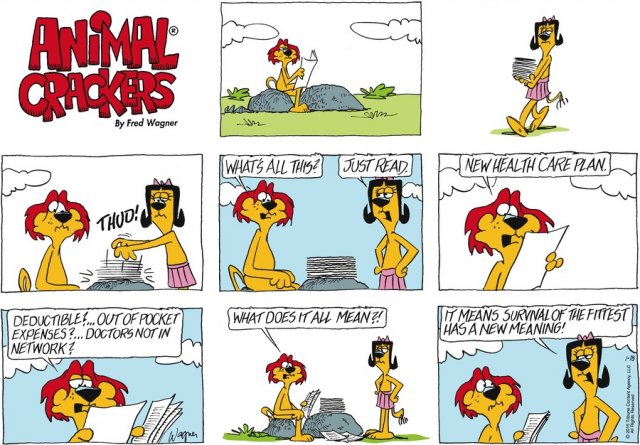 No doubt about it: I married the right man.