For us, Easter started last night with an Easter Vigil service that was over two hours long, but wonderful. Lighting of the New Fire, procession, candles, singing, and a large number of baptisms (adult and child), confirmations, and first communions. The latter is why it was so long, but who would want fewer? I love that our church has a means of doing infant baptism by immersion (parents' choice). I also love that moment when the lights come on and we shout the first Alleluia of Easter—alleluias are banished from the service during Lent—with the whole congregation sounding bells and other happy noisemakers. (There were a few unhappy noisemakers as well, as it was a long and late night for the above-mentioned children.) I brought my tambourine, and Porter the ship's bell that Dad had given us so long ago. The latter makes quite an impressive sound.

And this morning we got to celebrate again! One of these years I expect we'll attend each and every service from Palm Sunday through Easter, one for each day of the week and two on Sunday, but not this time: once again we skipped the sunrise service, as getting to church by 8:00 for the Easter brunch seemed early enough after our late night. The youth choir sang at the sunrise service and had to be there at 6:15 to help with setup; the service is held down by the lake. I know, it seems backwards: we keep the little kids up late, and wake the teenagers early. But it's a very special time, and sacrifice is part of the process. The brunch was followed by an egg hunt for the children, but we skipped that, because (1) our grandchildren weren't here to enjoy it, and (2) the choir rehearsed during that time for the final service of the day at 10:00.
Of all the services, that one is the most traditional as modern-day Easter services go. (The Easter Vigil is actually the oldest, dating back to the very early days of Christianity.)

Prelude and Introit: A Mighty Fortress (Martin Luther, setting by Joel Raney, Hope Publishing) Judging by YouTube, the handbell version is more popular, but if you click on the link (not the image) you'll hear something more like what we had, with our brass, flute, organ, piano, and choir. My only complaint is that because it is primarily an instrumental work, the choir sings only one verse of the hymn, and the first verse of Luther's great hymn is not a good place to stop. But that was okay, because I doubt the congregation actually discerned the words over the glory of the brass and organ.
Next up, the processional hymn Jesus Christ Is Risen Today, then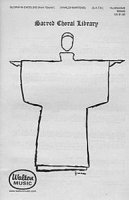 Gloria in Excelsis (Vivaldi-Martens, Walton Music HL08500628 W2043), for the Gloria, of course.
Happy Easter, everyone!