I've said it before, and it's still true: how blessed we are to be at a church ten minutes away from home (seven in good traffic). We've been in that situation before—in Rochester (NY) our church was only a block from home, and in Norwood (MA) it was a fine walk in good weather—but much of our time has been in churches that required significant driving time. Being so close makes it easy, or as easy as can be with busy schedules, to attend the mid-week (Monday - Saturday) Holy Week services, which are always so powerful.
For a more complete description of the general layout, see last year's Holy Week post. This year is much the same, albeit with some changes in the music. Here are the major ones:
Maundy Thursday anthem:
When I Survey the Wondrous Cross (arr. Gilbert Martin, Theodore Presser Company, 312-40785)
Good Friday anthem: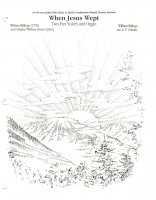 When Jesus Wept (William Billings, arr. A. F. Schultz, St. James Music Press
This is not the Parker/Shaw arrangement some of you know, which remains my favorite. However, this is also a good one, and I'm sorry I can't include a link here. All of my Internet sources have failed me this time.
We won't be singing as a choir for the Easter Vigil service tonight, but we'll be there with bells on. (Almost literally—mine may be a tambourine. Bells and other joyful noise makers are for the Great Alleluia of Easter.)
Then we get to celebrate all over again tomorrow, with a lot more music and joyful alleluias. But that will be for another post.