Grandparents sometimes have luxuries unavailable to parents, the greatest of which may be time. Not that I've ever felt free from the pressure of too much I want to do and not enough time in which to do it, but both time and the lack thereof are relative.
Vivienne wanted to go for a walk with Grandma, and she particularly likes it when I let her take the lead. We started out along familiar paths, stopping for a while at a favorite playground. But there was a somewhat aggressive boy there, so exploration soon became more attractive again.
We hiked past a mall and the local equivalent of Wal-Mart. (I hope I don't offend anyone with that comparison, but it's a large store that carries a great variety of items at comparatively reasonable prices.) As we passed, she expressed her regret that the stores were all closed. Here most businesses are closed on Sundays, a practice widespread when I was young but now limited at home primarily to Chick-fil-A restaurants. While I admit to doing my share of business on Sundays, part of me misses those times and the natural respite from day-to-day consumerism and busy-ness.
End of digression. Vivienne was content enough to window-shop in the garden center, which was visible from the sidewalk. Moving on, we crossed the street to an intriguing path that spiraled down towards a tunnel. Where would it lead? It was dark and lonely, seemingly abandoned: the underground part of a parking garage, empty because the stores were closed. A little scary, too, so we happily returned to the sun-lit lands, up a set of stairs and on our way.
On our way where? We found ourselves in a neighborhood of apartment buildings, complete with tempting playgrounds. Tempting, but in the end resistible—the intrepid walker pressed on. At last we came to the only intersection where Vivienne asked me to decide if we should go left or right. Less adventuresome, knowing that going out requires an eventual return, and cognizant of approaching suppertime, I chose to "close the loop."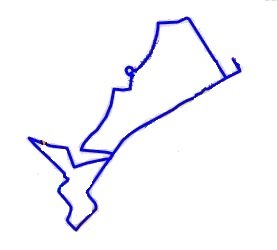 a rough sketch of our approximately 1.75-mile journey
Vivienne had other ideas, however, immediately executing a hairpin turn and heading off towards the ... train station! Through the tunnel, under the tracks, and up to the platform. We looked around for a while, but no trains came. Go back as we had come? Certainly not! We had to find another way across the tracks. Which we did, going still further on before we could turn around.
After that the return was fairly straightforward, with just one foray into a business center that I would have avoided had I been the leader. That was the point at which I first blessed having no need to hurry: at worst we would have to call home to say we'd be late for supper. For it was then that Vivienne decided she had had enough walking and wanted to be carried. I wasn't surprised—we'd been walking quite a while, and she is not that much past her third birthday. Nevertheless, I reminded her that we'd discussed a couple of times the importance of not going so far that we'd run out of energy for the return trip. So I waited, and Vivienne sat on the ground until she had recovered enough energy to walk, which she did when she was ready, without fuss or complaint.
We were almost within eyeshot of home when she sat down again, and took off both her socks and shoes. She did not ask to be carried, but apparently her feet needed some air. I completely understand. After about 15 minutes—and a few smiles and nods from passersby—she calmly put her socks and shoes back on, stood up, and we continued on our way.
Not, alas, as quickly as I—tired myself and still mindful of supper time—would have wished. It took a long time to cross the bridge. It's only over a road, but that was fascinating enough to Vivienne, and she careened as many times as possible between the side of the walkway with the precipitous drop and the side right next to the bus lane. The guard rails are sturdy and sufficient, but I was notably happier when we finally reached the end of the bridge. The rest of the trip was uneventful, though by no means speedy, as we stopped to smell at least 50 roses in the home stretch.
We had had a great adventure together, and still made it home for supper.