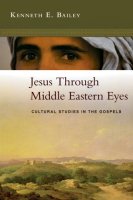 Jesus Through Middle Eastern Eyes: Cultural Studies in the Gospels by Kenneth E. Bailey (IVP Academic, 2008)
I cannot remember where I learned about this book—though it seems like the kind of book Peter V. might have recommended—but its description intrigued me enough to put it in my Amazon cart. The order arrived with other, more attractive books, however, so it went on a bookshelf instead of being read immediately. And there it stayed for five years, almost to the day.
This year, however, the title popped up again, on my son-in-law's Amazon wish list. What better way to work on 95 by 65 item #63 (Read 26 existing but as yet unread books from my bookshelves), than to read it myself, bring it to Switzerland with me, and give it to him for his approaching birthday. It was a bit of a challenge to complete the 443 pages in time, even with a transatlantic flight, but I did complete it (though not this review) before making the return trip.
Was it worth the time? Yes, even though most of the reading came at the cost of much-needed sleep, life with three (and then four) grandchildren under the age of five leaving few free moments for sustained attention to anything else. The grandchildren, naturally, were more rewarding, but that's not the book's fault.
Was it all I had hoped for? Not close, I'm afraid. Don't get me wrong: there's a lot of value there. The book starts off with a splash of great promise in the author's argument, based on his knowledge of present and historical Middle Eastern culture, that Jesus was not born in a barn, or even a cave, behind an overflowing inn—despite each location having long tradition behind it—but in a private home, where the traditional guest quarters were already filled. A baby born in the home's main room could have been conveniently laid in the mangers that served the livestock housed in the lower-level end of the room.
The author's cultural knowledge also brings new light to several New Testament stories, such as Zacchaeus' repentance speech:
The moment comes ... when Zacchaeus, who has been reclining with Jesus and the other guests, stands to give his formal response. In traditional Middle Eastern style, he exaggerates in order to demonstrate his sincerity and pledges to give away 50 percent of his assets. Then he says he will pay back fourfold anyone he has cheated. If all the money he has ever collected unjustly from the community over the years amounts to 13 percent of his remaining assets, he cannot fulfill this pledge No one expects him to do so.... In good village fashion...Zacchaeus affirms his sincerity by exaggeration. If he does not exaggerate, the crowd will think he means the opposite.
Math may not be the author's strong point, but you get the idea. And here's the backstory of the miraculous catch of fish in Luke 5:
The Sea of Galilee drops off into deep water close to the shore, and in most areas is too dangerous for swimming. Casting can be done standing in the water or from a boat. Drag fishing, with a long net and two boats, was also practiced.... These two types of fishing can be done during the day. But all fishermen working Gennesaret know that most successful fishing takes place at night and primarily near the shore where fresh water feeds into the lake.... The very idea that a landlubber from the highlands of Nazareth, who has never wet a line, should presume to tell a seasoned fishing captain what to do is preposterous. The fish can see and avoid the nets during the day, but they feed at night. The order to launch into the deeps in broad daylight is ridiculous.
And of Jesus' conversation with the woman at the well in John 4:
He breaks the social taboo against talking to a woman, particularly in an uninhabited place with no witnesses. Throughout forty years of life in the Middle East I have never crossed this social boundary line. In village society, a strange man does not even make eye contact with a woman in a public place.
If the whole book were like this, I'd be sorry I promised to give it away. But despite repeatedly, and correctly, pressing the point that our 21st century viewpoints distort what we see in these 1st century stories, it's clear that the author allows his own opinions to influence his interpretations. He's also so very convinced that his interpretations are the correct ones, and too often speaks this assurance over what clearly are speculations.
While it's good to know how radically Jesus departed from the customs of his time in his interactions with women, I'm not convinced that promoting gender equality was Jesus' primary purpose in these encounters, though that seems to be the author's view.
Bailey's opinions intrude frequently, unnecessarily, and at times offensively.
History is replete with examples of one ethnic community displacing another. To accomplish such a goal the aggressors usually feel the need to demean those they are brutalizing. Words such as savages, vermin, and now terrorists ring down the centuries.
His apparent problem with labelling those who commit organized acts of terror as "terrorists" is gratuitously offensive. The provocation distracts from his point while adding nothing to it. So too with his bias against the modern state of Israel, which crops up now and then.
Although my next complaint is admittedly petty, it's like fingernails on a blackboard to me when Bailey uses outdated slang, such as "head trip," and overused phrases meant to sound Biblical which aren't, like "speaking truth to power."
For all that, Jesus Through Middle Eastern Eyes is worth reading. In addition to giving cultural insights, Bailey unlocks the rhetorical style and structure of many of the Biblical stories. I'm not sure how much this actually adds to understanding, but it's interesting, and not at all obvious to the casual, English-speaking reader.
The ... challenge is to realize the historical nature of the Word of God. The Bible for Christians is not just the Word of God. Rather, it is the Word of God spoken through people in history. Those people and that history cannot be ignored without missing the speaker or writer's intentions and creating our own substitutes for them. Historical interpretation is the key to unlocking the vault that contains the gold of theological meaning.... It is helpful to note that this is true of all significant literature.