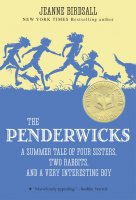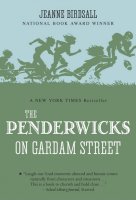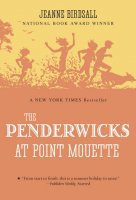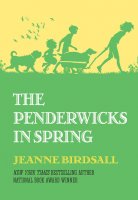 The Penderwicks: A Summer Tale of Four Sisters, Two Rabbits, and a Very Interesting Boy; The Penderwicks on Gardam Street; The Penderwicks at Point Mouette; and The Penderwicks in Spring by Jeanne Birdsall (Knopf Books for Young Readers, 2005, 2008, 2011, and 2015)
Many thanks to our daughter, who knows what her mother likes, for recommending this series to me. She called it a cross between Swallows and Amazons and The Saturdays, and that's a reasonable characterization.
Even as a child I preferred books written before my own time, and it's only gotten worse. I've read some good, recent children's books, but many are downright awful and few if any measure up to those from the past that have survived the filter of history. The Penderwicks series, I'm happy to say, is a wonderful exception.
My primary objection to modern books—my defnition of modern reaches back into the 1960's, at least—is that they want to be, well, modern. Like many miserable church youth groups, they attempt to be relevant by embracing the worst of the world rather than providing hope and a better vision.
The Penderwick world is a modern one, and hardly free of modern troubles: death, divorce, desertion, and depression all touch the lives of this family, as well as other troubles not beginning with "d." But none of these overwhelms the story, being swallowed up by family strength and loyalty, loving and reliable parents who are in turn loved and depended upon, and siblings who appreciate and care for one another. By hope and a vision of what family life can and should be.
Another thing I value in these books is that the children have serious interests—from writing to sports to music to science—that are appreciated and supported. That's a rare trait, and one way in which they remind me of The Saturdays.
There are things in the books I personally don't care for, e.g. children in daycare, and too much romance for my taste—though the latter is handled well, I'll admit. But overall, these are good books. And fun, too. Heather knew well the things that I would especially enjoy, such as certain book references, and the music teacher who enjoins, "you must choose a teacher who won't make you do that awful belting everyone is being taught these days."