The best part of our visit to St. Louis, Missouri this year was without a doubt time spent with living relatives. Yet we also had a great time visiting several dead ones.
A member of our extended family was born in St. Louis, and has roots there going back to the mid-1800's, when her great-grandparents arrived from Ireland. Hereinafter she will be referred to as GrandmaX—not to be confused with the usual Grandma on this blog, that is, me—because it is considered bad form to use the names of living people in online genealogical work. The Catholic Archdiocese of St. Louis has a great online burial search tool, so I knew that several of GrandmaX's family members were buried there. It would be fun to see what we could find.
But first, we stopped at the Old Cathedral, the Basilica of St. Louis, King of France, formerly the Cathedral of Saint Louis. This was the first Catholic cathedral west of the Mississippi (but just barely west; it's right on the river) and was the only Catholic church in St. Louis until 1845. When all other nearby buildings were demolished for the building of the Gateway Arch, the Old Cathedral was left standing because of its historical significance. (You can click on any photo for a closer look.)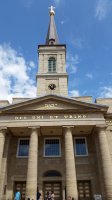 Old Cathedral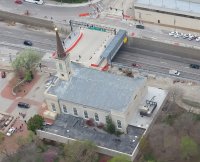 As seen from the top of the Gateway Arch
The Cathedral may or may not have been the family's parish church, but it must in any case have been important to them, as they were at that point a Catholic family. When the family left the Catholic Church I do not know. It might have been because of the divorce of William and Margaret (Donohue) Goodman, GrandmaX's maternal grandparents, though both of them, and also Margaret's second husband, Joseph A. Murray, and some others of their family, are buried in the Catholic cemetery. At the present time, Catholics who are divorced and remarried without having obtained an annulment are not considered to be "members in good standing," and thus cannot participate in some aspects of church life, but they are allowed to be buried in a Catholic cemetery. I don't know if that was also true in the 19th century.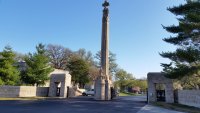 The next stop in our genealogical adventure was Calvary Cemetery itself, located at 5239 West Florissant Avenue in St. Louis, little more than ten minutes away from our hotel near the Gateway Arch. We were overwhelmed by the size of the cemetery, but the people there were welcoming and helpful, providing us with both burial data and maps. Some of the graves we had come to see were easy to find; others, impossible. Markers on the map below show approximately where we went.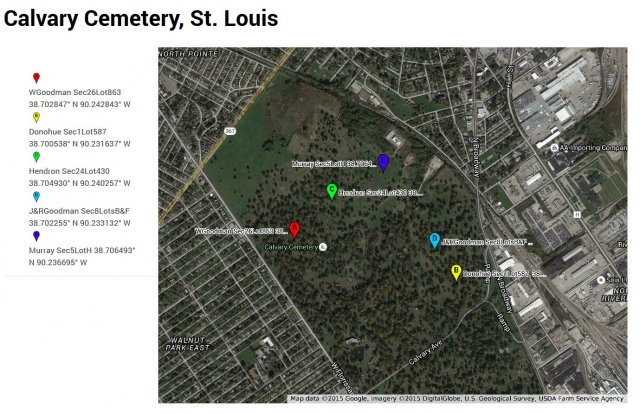 Marker B: Section 1, Lot 587—Donohue
North Side

Our first stop of genealogical significance was the Donohue family plot (called "Donohoe" in the cemetery records). Owen and Margaret (Sullivan) Donohue both came from Ireland, and were in St. Louis no later than 1856, when their daughter Margaret—GrandmaX's grandmother—was born. The front of the monument, facing roughly north, has the Donohue surname and Owen and Margaret's information on it. (On the left, the stone; on the right, our transcription.)
Nineteenth-century immigrant birthdates can be problematic, with a lot of guessing going on, thanks to faulty memories, what records that exist being a long way away in the home country, and people having reasons for presenting themselves as older or younger than they really were. So birthdates and ages at death must not be considered definitive when obtained much later in life, even when carved in stone. Owen's death certificate agrees with the stone as to date, but says he was age 62, and that's what the official cemetery records say. Yet the stone clearly says 63. Census records give somewhat earlier birthdates. It's a pretty good guess that he was born sometime in the 1830's, but we'll never really know without finding his baptismal records back in Ireland...
...Which we are significantly closer to doing thanks to this gravestone. We had had no clue at all as to where in Ireland the Donohues came from, other than the idea that, being Catholic, they were more likely from the south than the north. That's not much to go on. Knowing the county doesn't make it easy, but at least it makes it possible, and now we know that they came from County Cork!
West Side
Michael G. Donohue was the son of Owen and Margaret, born in St. Louis. Again the information on the gravestone gives cause for puzzlement. Maria's death certificate says she died on June 18, 1891, and the cemetery records that she was buried June 20, 1891 are in line with that. However, the gravestone clearly says she died April 18, 1890. Carver's mistake? Bad handwriting?
Michael's information is also confusing, even though he was not himself an immigrant. The death record says he died November 7, 1906, and the cemetery record that he was buried November 10, 1906 at age 48, making his birth year 1858 or 1859. Try as I might I can't read the stone inscription as anything other than 1867 for the birth year—in any case the final digit is most definitely a 7. On the spot we read the death year as 1905, and looking at the photos I still think that's the most likely date, though 1906 is possible. Fortunately, although I haven't found a birth record, Michael is recorded as being 4 months old in the August 1, 1860 census. At that age, there's no mistaking or lying about more than a month or two, so for certain the 1867 birth year, carved in stone, is wrong.
East Side
It was a hard time to be a child. Joseph O. and Catherine (Katie) M. Murray were the children of Joseph and Margaret (Donohue) (Goodman) Murray. Margaret was the daughter of Owen and Margaret (Sullivan) Donohue, and the grandmother of GrandmaX. Joseph A. Murray was her second husband; we'll get to Mr. Goodman later. These children, then, would have been half-siblings of GrandmaX's mother, who would have been in her mid-to-late teens when they died. Although they died a year apart (Katie on July 30, 1896 and Joseph on July 22, 1897), given their ages at death, they were probably twins.
And Mazie? Bear with me here. Margaret (Donohue) (Goodman) Murray had a sister, Ellen (Nellie). Nellie married Nelson Harvey Howard, and Mary (Mazie) Howard was their second child. Mazie would have been a first cousin once removed to GrandmaX. She died on July 14, 1893, at 21 months of age.
Although she is not listed on the stone, cemetery records tell us that one more baby is buried here: Oaty Ester Dennis, GrandmaX's older sister, whom she never met, because Oaty died on Christmas of 1911, just 27 days after her birth. "Oaty" is an odd name, but real, after her paternal grandmother. Her maternal grandparents were William and Margaret (Donohue) Goodman—but as I said, we'll get to them later on.
According to their death records, Joseph Murray died of "infantile convulsions, teething," Katie Murray of gastroenteritis, Mary Howard of "infantile convulsions," and Oaty Dennis of pneumonia. According to Rudy's List of Archaic Medical Terms, quoting a reference from 1785, "Though more children are said to die of convulsions than of any other disease, yet they are for the most part only a symptom of some other malady. Whatever greatly irritates or stimulates the nerves, may occasion convulsions. Hence infants whose nerves are easily affected, are often thrown into convulsions by any thing that irritates the alimentary canal; likewise by teething; strait clothes; the approach of the small-pox, measles, or other eruptive diseases." Children died of a lot of things back then.
Marker D: Section 8, Lots B and F—J&RGoodman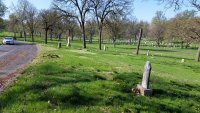 Section 8 is just down the road from Section 1, so our next effort was to find the gravestones of John and Rose (Ward) Goodman (Lot B Row 25 and Lot F Row 5, respectively). They also came from Ireland, and were in St. Louis no later than 1855, when their son William—GrandmaX's grandfather—was born. According to the cemetery records, John died at the age of 48, and was buried on July 26, 1875. This would mean he was born around 1827, which is reasonably consistent with the census data. Rose was buried on Feb 20, 1890 at the supposed age of 58, giving her a birth year around 1832. The census data consistently claims she was born in 1830. Again, we can't do better than that without the original Irish records.
There is another John Goodman in Lot B Row 25, buried on March 9, 1877 at age 0. Death records show that the baby died at the age of six days, of "trismus nascentium"—probably neonatal tetanus. His parents aren't named, but this is likely the son of William and Margaret (Donohue) Goodman, named for his grandfather who had died two years earlier. There are no other Goodmans buried in Section 8, and to the best of my knowledge William had no brothers, making this identification reasonable. If true, young John would have been born three years before their daughter Margaret (GrandmaX's mother), who is the only other child I've found from their marriage.
Unfortunately, we found no gravestones to add anything, either useful or confusing, to the data. Many of the stones in this cemetery were made of less durable materials than granite; time and acid rain have not been kind to them. What was once a heavily-populated section of the cemetery now sports a lot of bare grass, with many graves now unmarked. Of the stones still in place, we found most to be illegible. Some sections—such as the one where we found the Donohue stone—have the locations of graves clearly marked in the records, and on maps. Others, sadly, only let you know that a particular person is buried "somewhere in here." Such is the case for Section 8, and also the next section on our tour.
Marker E: Section 5, Lot H—Murray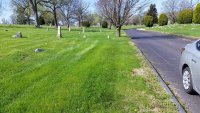 We packed up and moved to Section 5, Lot H, hoping to find Joseph A. and Margaret (Donohue) (Goodman) Murray. Margaret, as I have said before, was GrandmaX's grandmother, who married Joseph Murray after her divorce from William Goodman. Sadly, we found here a repeat of our previous frustrations: missing and illegible stones. However, the photo below from "Elaine R S" on FindAGrave.com was taken in 2013, so either our painstaking search wasn't as thorough as we thought, or there's been some serious vandalism since then. I'd love to go back and find the spot where this picture was taken.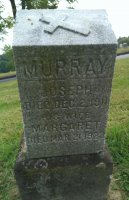 Death records and the gravestone agree that Joseph Murray died on December 2, 1911. He was buried on December 5, and was supposedly 54 when he died. Census records vary, suggesting birth years between 1852 and 1857. Margaret died on March 21, 1923 and was buried on March 24. Her birthday is given on the death certificate as April 9, 1858, although the 1900 census says April 1859 and others censuses suggest it was 1856. Looking at the supposed birthdates of Margaret's siblings, 1856 and 1859 are possible, but 1858 is not.
Marker C: Section 24, Lot 430—Hendron
So far we have learned about four of Owen and Margaret (Sullivan) Donohue's children: Margaret, who married William Goldman (more to come on him, really!) and then Joseph Murray; Michael, who married Maria (last name probably Duffy); and Nellie, who married Nelson Howard and whose daughter Mazie is buried in the Donohue plot. There's one other boy that we know of: Thomas, who was born about 1869 and died young. The family lived in Litchfield, Illinois for sometime around 1870, and that is probably where Thomas was born and buried. There is also one more girl: Catherine (Kate), who was either first- or second-born, depending on what date one accepts for her sister Margaret's birth. Catherine married William Hendron, and finding their gravestone was a much-welcomed success after so many cases of, "They're buried somewhere in this plot but we have no idea where."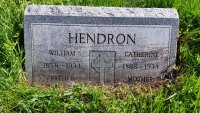 Kate was born December 19, 1857, and died June 13, 1933, at age 75; William, born May 6, 1863, outlived her by just over a year, dying on October 27, 1934 at the age of 71. This information comes from their death certificates, and is in agreement with the gravestone and the cemetery records, but the census data reminds us that without reliable birth records, we can't be sure. (The 1900 census says Kate was born in December 1891 and was 38 years old.)
Several of William and Kate Hendron's descendants are buried in this plot as well.
No Marker: Section 24, Lot 973—Evans
We did not visit this lot, which is across the street from where the Hendrons are buried, because I didn't find out until later that Joseph and Margaret (Donohue) Murray's daughter, Ruth (Murray) Evans, is buried here. She was GrandmaX's half-aunt. Ruth was born on December 17, 1893 and died at age 37 on February 10, 1931. GrandmaX was six years old when Ruth died, and so probably doesn't remember her, but I wonder if she remembers any family stories about her. For Ruth Evans was murdered—shot through the stomach and the liver. That information came from her death certificate; at this point, I know no more.
Marker A: Section 26, Lot 863—WGoodman
Yes! We have finally arrived at William Goodman's stone.
That's exactly how we felt at the time, because the cemetery at first sent us on a wild goose chase. We went to the plot were they said he was buried, along with his sister Mollie (Mary) (Goodman) Adams, and his niece, Hazel Adams. Where Mollie's husband and Hazel's father, William Adams, is buried I do not know, nor do I have any other data for him.
After a long and fruitless search—all the more frustrating, because unlike the previous times we came up empty, the stones around this lot were in good shape—I made use of my handy smart phone and its Internet connection to do some digging on the cemetery's website. By looking up the names on gravestones where we were, I determined that we were, indeed, standing before what should have been William Goodman's grave, but it was not his name on the marker. We took this evidence back to the cemetery office, where they discovered that, indeed, their database was wrong. They were, however, able to send us back out to the right plot.
When we arrived, there was William Goodman's gravestone, plain as day and easy to read! Unfortunately, what you see is the sum total of the information it contained.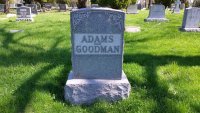 That was disappointing; if I hadn't already known a bit about William Goodman, the stone would not have helped in the least. Information on William was hard to find, because he disappeared soon after his divorce from Margaret, which appears to be shortly before the 1880 census, in which they are both listed as divorced, but which was taken very soon after their daughter, Margaret (GrandmaX's mother), was born.
When I began my research I didn't even know his name: he was only "Grandpa Goodman who was a miner in Colorado." At that time, Colorado was not a place of good record-keeping, and I despaired of ever finding him. But the man had the good sense to come back home to die, and though his death certificate agrees that his residence was Denver, Colorado, he died in St. Louis, the home of some pretty good online death records.
According to those records, William Goodman was the son, as I have said, of John and Rose (Ward) Goodman. He had at least two other siblings besides Mollie—Elizabeth and Julia—but if they are buried here it must be under married names. William was the oldest, born October 15, 1855. He died on May 8, 1933, quite possibly on a visit to Mollie, as she is the informant listed on the death certificate. Apparently William fell down the stairs and fractured his femur, dying two and a half months later, officially of chronic myocarditis. In a mystery novel, this would be cause for suspicion, but in real life, in a 77-year-old man with signs of dementia, the fall was no doubt an accident, as the official record declares.
With no marriage record at hand, it's hard to say when he married Margaret Donohue (Owen and Margaret's daughter, remember?). If the John Goodman who died as an infant was indeed their son, it would have been about 1876, when he was 21 and she—probably 20, but possibly 17. John, and their daughter, Margaret, born June 2, 1880, were probably their only children together. We know that Margaret (Donohue) Goodman then married Joseph Murray in about 1885, and had four children, at least three of which (Ruth, Joseph, and Catherine) are buried in this cemetery. (The firstborn, Theresa, I have no further record of.) If William Goodman ever remarried and had any more children, I don't know about it. He's listed as divorced on his death certificate.
We will probably never know what led to the divorce of William and Margaret (Donohue) Goodman. Did his daughter, Margaret, even know him? Her parents divorced before she was born, and she grew up with her stepsiblings. Whether she knew him or not, after she married George Saul Dennis, they memorialized him by naming their firstborn William Goodman Dennis.
William Goodman Dennis was GrandmaX's oldest brother. She had one other sibling whom she knew, named Sayle after his father's side of the family, and one more who died before she was born, four days after his birth. Little George was born when his family was in Ohio, and his death certificate reads, "sudden death, specific cause unknown." Oaty Esther Dennis, GrandmaX's only sister, is also the only one of her immediate family to be buried in St. Louis: like many in the 20th century, they moved on and spread out.
It has been 40 years since GrandmaX's last living sibling died. She herself has outlived them all by at least 20 years. I hope her children and grandchildren, who will surely recognize her despite the anonymous moniker, will enjoy this look into their St. Louis roots, and will perhaps pay her a visit with a laptop or tablet so she can enjoy it as well.
---
And now we're almost done with our St. Louis cemetery visit. There are some famous people buried there, too, and in and around our family gravestone searches we checked out a few of them.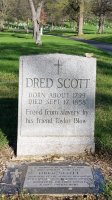 Dred Scott
Dr. Tom Dooley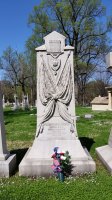 William Tecumseh Sherman
And with that, we left the cemetery and went to meet our living family. I've eaten lunch in a cemetery before, but in general, the living make better dining companions.