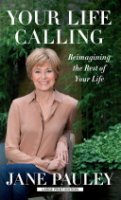 Your Life Calling: Reimagining the Rest of Your Life by Jane Pauley (Simon & Schuster, 2014)
This is why we have friends. I would never have picked out this book to read. For one thing, I tend to avoid books by or about celebrities. For another, I in no way can identify with people who, when their children go to school, or leave home, or when they turn 50, or retire, say, "What on earth am I going to do with the rest of my life?" I don't need a new life; I have enough planned in the one I have now to see me through more productive years than I can possibly have left.
But a friend highly recommended Pauley's book, and I'll admit that it kept my interest even though I didn't buy into its focus. The Penzey's fans among my readers will best understand the effect that Your Life Calling had on me. It was very much like reading a Penzey's catalog, where I find myself repeatedly annoyed by the self-aggrandizement, the leftist slant, and the in-your-face distain for several of my strongly-held principles—yet I keep reading, because the stories are interesting and inspiring.
Pauley premise is that our generation is the first to have the long lifespan and the leisure to "reinvent" ourselves, possibly several times as we go through life. Today's young people are already doing it ("what we call reinvention is just 'the churn' for them"). In fact, for them it may be more of a necessity, given the pace at which technology (and thus the job market) is now changing. (The last sentence is my analysis, not Pauley's.) But it's new for us.
You may be surprised to know that people over fifty-five represent the largest age group of owners of new business start-ups. At an age when our own parents and grandparents expected to wind things down, people are getting a second wind.

The Stanford Longevity expert, Laura Carstensen, notes that withour new vitality come some pretty big questions. She says, "Those of us living today have been handed a remarkable gift with no strings attached—an extra thirty years of life for the average person. Now that gift is forcing us to answer a uniquely twenty-first-century question—what are we going to do with our supersized lives?"
Permit me an exasperated wail at yet another expert who misunderstands the term "life expectancy." But aside from that, it is true that our generation finds itself thinking in terms of second, often radically different, careers more than previous generations. One only needs to listen to someone of my parents' generation talk to realize that the men, at least, defined themselves very much by their careers. Of my generation this is less true, mostly I think because we were betrayed by the "be loyal to your company and your company will be loyal to you" compact. What is "me" is not my employment, and therefore I am free to move on to something entirely different.
That I get, as evidenced by my need to elaborate on it. I also appreciated Pauley's description of Imposter Syndrome: (More)
Go to page: