We like snakes. Snakes eat bugs and rats and other not-so-pleasant would-be inhabitants of our yard. For the past several years, however, we haven't seen many. There haven't been that many hawks, though I have been hearing more owls than usual. Most likely the cause of drop in the snake population is that some of our neighbors don't feel about snakes the way we do. Our most common snake, the black racer, also has the unfortunately habit of hanging out just where the garage door hits the ground....
So we were glad to see one the other day, though less than happy that he zipped into the garage. Whence comes this snake suicide wish?
Then today Porter called me to the back porch to see another one. It was a snake I'd never seen before in all our 30 years in Florida. I took some pictures, and then Porter nudged it out the door with a broomstick. (Of course we had a broomstick handy. Isn't it two days before Hallowe'en?)
I transferred the pictures to my computer and started my identification quest. With a little trepidation, I began with the venomous snakes, because our snake (click to enlarge)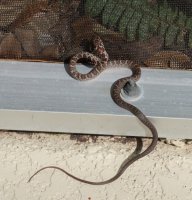 reminded us of nothing more than a pygmy rattler.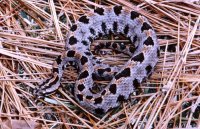 We could see no rattles, but they are very small, and this looked to be a pretty young snake. I began my search with the thought that shooing him out into the backyard—over which we expect our grandchildren to roam freely this summer—might not have been the smartest of ideas. True, we'd never had a pygmy rattlesnake in our yard (that I know of), and had only once ever seen one in the wild (on a campout), but there's always a first time.
It didn't take long, however, to discover that even after 30 years we still had something to learn about the black racer. The juveniles look nothing like the adults, which are sleek and a solid grey-black. The young are blotched, and are often mistaken for pygmy rattlers. You can see images of both the young and the adult here.
Whew. We're glad we let him live to grow up and patrol our yard. If only he'll stay clear of the garage door.