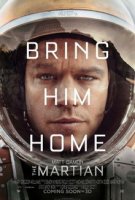 Porter read a review of The Martian that made him want to see it in a theater instead of waiting for it to become available on Netflix.
I believe the previous time we watched a movie in the theater was Christmas of 2013, when we saw part two of The Hobbit with some of our nephews and their friends. The social aspect seems to me about the only reason to go to a theater, and even for that I prefer watching at home, since at the theater you can't pause the movie to discuss it, nor rewind to catch a bit of dialogue you missed.
Another reason is for the sensory experience of the large screen and speakers, and in this case, the 3D effects. These are largely lost on me: I'm just as happy with the picture on our relatively small-screen TV, and I wear earplugs to protect my ears from the booming speakers. I have little experience with 3D movies beyond the kind they have at Disney World—where things jump out at you and are accompanied by puffs of air at your legs and vibrations of your seat. For The Martian the effects were simply visual, with nothing even to make me jump, and I don't think it added anything to the film, certainly not enough to warrant wearing the annoying glasses. Then again, I'm not one to be all that aware of dimensionality in the real world, so your mileage may vary.
The movie itself? It was good. Unusually good. I'm not much of a movie fan, and it takes a lot to get a "good" rating out of me. I'm told that The Martian is unusually true to the book, which was unusually well-researched and true to the science and engineering behind space travel. For people like us, who grew up in the era of manned space exploration, it does ring (mostly) true, not only in the technical aspects but also in the characters, from astronauts to politicians. It's an edge-of-your-seat thriller with a satisfying ending. I'd recommend it heartily were it not for one disturbing problem.
Why, O why do novelists and filmmakers believe they must include gratuitous profanity in their works? The Martian is otherwise SFG (Safe For Grandchildren), and I should be happy enough that this is a popular, mainstream, modern movie with neither sex nor shootouts. Instead there's resourcefulness, loyalty, determination, and celebration of both cooperative work and the lone-ranger nerd. But the bad language added less to the film than the 3D effects—and was more annoying than the special glasses—while taking a valuable, educational, and inspirational experience off the table for some boys I know who would have enjoyed it a lot.
Bad language aside—and there's not that much of it—if you liked Apollo 13, you won't want to miss The Martian.
We're 47th in line at the library for the book.