It's no secret I love Chick-fil-A. I've never worked there myself, but friends who did in high school found it a good, supportive place to work.
I love that they are successful while maintaining their Sundays-off policy, even though I'm frequently frustrated on road trips because Chick-fil-A is my favorite fast food restaurant and we're often travelling on a Sunday. If Chick-fil-A can do it, more companies could if they tried: I grew up with most businesses closed on Sundays, and that's still the case in Switzerland, where store hours are much shorter than here. You learn to adjust.
These things wouldn't matter much if the food weren't good, but their Spicy Chicken Sandwich and Spicy Chicken Biscuit are the best I've had anywhere—and that's not for want of trying elsewhere.
If I've ever tried their cole slaw, I don't remember it, which may be part of the reason they're taking it off the menu. But some people like it as much as I like their spicy sandwiches, so I'm pleased to report that the company has done something else right: When they announced the end of cole slaw as an option at their restaurants, they published their recipe, so we can make it at home. (Click to enlarge.)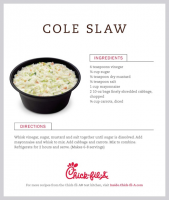 I wish other companies would do the same when discontinuing products.