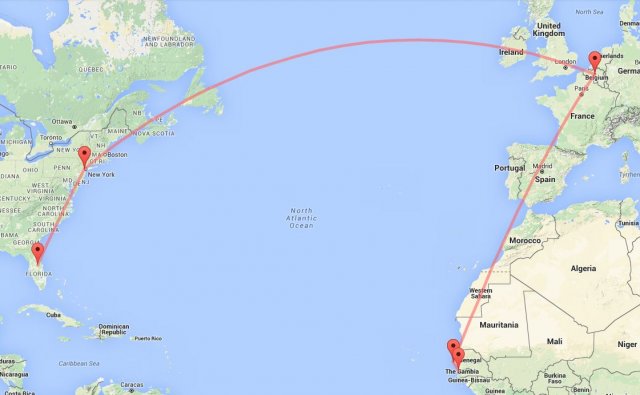 Before the wheels of our first flight had left the ground, at least five people had, separately and individually, encouraged me to "enjoy the adventure." This became my motto throughout the trip, helping me glide through moments where I amazed Porter with my relaxed lack-of-panic. I really did enjoy almost every part of the adventure, all the more so looking backwards and knowing that so many things that could have gone wrong, did not. It was all in all an amazing two weeks, and when people ask if we will return, the reason for replying, "not anytime soon" is not due to negative experiences, but that there are so many other places we want to see.
I will, however, admit that the largest factor in making the trip both awesome and not scary was having a friend on the ground (Kathy, with several years of local experience) and a caring, competent guide/guardian angel (Kathy's student and friend, B). From New Zealand to Japan, Switzerland, France, and now the Gambia, my taste in overseas travel has always favored the local over the standard tourist experience.
Thursday, January 14 - Friday, January 15 Our first day of travel was actually our first two. We left Orlando at a comfortable time, shortly after noon, and arrived in Banjul around six the next evening. Porter had done a lot of research into flights from here to the Gambia, including options that had us going via Tenerife and Casablanca. That would have been interesting, but I'm glad we ended up with a much shorter trip on an airline less renowned for losing luggage.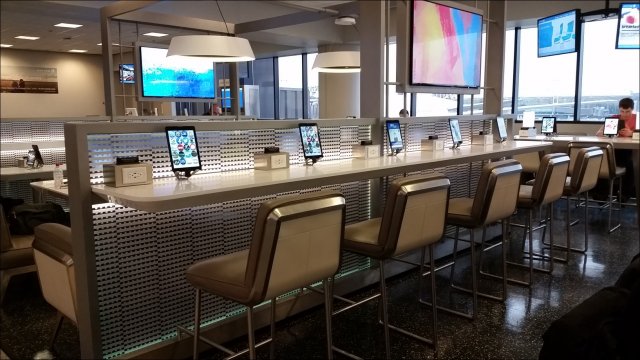 First stop: Newark. We've flown through Newark a lot, but United's international gate area was something new indeed, and made for a very pleasant wait. Every airport I've flown out of has some sort of seating at the gate. Good airports have electrical outlets available, but never enough. Many times I've seen pleasant seats going unused at a crowded gate, while weary travellers sat awkwardly on the floor next to the few existing electrical outlets, all of which were positioned to favor the cleaning crews' vacuums over travellers' electronic devices. The better airports have charging stations, or power outlets available in some seats, but again, never enough.
United Airlines in Newark had enough. In addition to power outlets and desk space, each station was equipped with a tablet from which one could use the Internet, play games, shop at various airport stores, and order food. I call that a great idea, though I didn't sit down for long. I left Porter at work at our desk, watching over my charging phone, while I did laps around the gate area, logging my customary 10,000 steps for the day. I would accomplish that goal only three more times before returning home. Contrary to all my expectations, we sat a great deal more than we walked in the Gambia.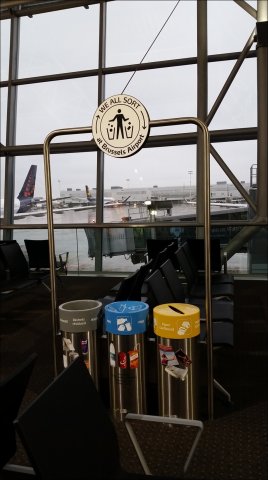 Travelling long distances with small children is challenging at best, and when the airline has lost your stroller and the Customs officials are being particularly nasty it can be a nightmare. Travelling alone means there is no one to watch your belongings when you want to duck into the restroom or pick up a bite to eat along the way. (The fancy new setup at the airport gates can take care of the latter problem, but not the former.) But long flights with several stops can be enjoyable and even restful if you're travelling with a pleasant, adult companion and plenty of entertainment in the form of Kindle books and World of Puzzles magazines. Time changes have also become a lot easier to deal with since I've learned to sleep on the plane when I'm tired and not pay attention to the clock when I'm not. (It also helps to arrive at one's destination in the evening rather than in the morning.) All that to say, as long as the flights are more or less punctual and I have plenty of time to make connections, I enjoy air travel.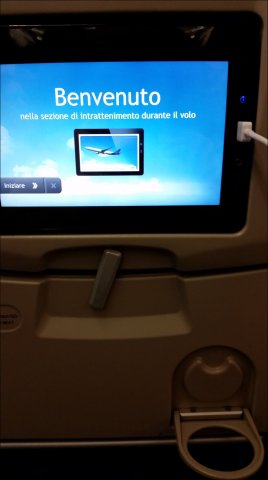 On this trip I added three new countries to my collection in a single day. By the time we landed in Brussels it was Friday. (Technically, I didn't actually enter Belgium until our return trip, as we didn't have to go through Passport Control to catch our next flight.) This cute recycling station is the only photo worth sharing I have from our stay in Belgium.
Our Brussels Airlines flight to Senegal, however, provided this example of an intelligent seat console, complete with cup holder and USB charging port. As usual, there wasn't much attractive to me in the entertainment offerings, but I did enjoy watching The Martian for the second time. It was especially enjoyable having read the book since my first viewing of the film. Porter also took the opportunity to watch Bridge of Spies, which he thought was great.
We didn't officially enter Senegal on this day, either, as we did not change planes. We waited there for over an hour, however, and I was allowed to get to the very edge of the door to snap this photo.
The flight from Dakar to Banjul is short; we probably spent less time in the air than we did getting out of the airport once we landed. Our first impression of the Gambia was not the most pleasant: long waits, and people pushing and shoving and hustling. What must the Swiss think? The Swiss know how to wait a few steps back from the luggage carousel, so that everyone can see, approaching the belt only when it's time to pick up their own bags.
This was also the only time our luggage has been x-rayed on the way out of the airport.
We were glad to be able to tell the hustlers that we had no money; Kathy had dalasis for us, but she was out of reach on the other side of the border controls. At least we certainly hoped so, though she was out of sight as well. We learned later that the hustlers would have been happy to take our dollars, but we weren't inclined to want help with our luggage, anyway.
Finally we made it through, and there was Kathy—and how great it was to see her again! And to meet B., whom we knew only by name and voice: he had recorded the numbers from 1 to 100 in the Mandinka language for our number-and-language loving grandson, Joseph. Apparently B. felt the connection, too, as one of the first things he asked us was to tell him more about Joseph.
B. had arranged a car to transport us all to Brikama, where Kathy lives. The trip began a bit inauspiciously, as in order to start the engine the driver resorted to a trick I remember seeing as a young child: getting several men—including Porter—to push the car to a certain speed, then popping the car into gear. After a couple of tries, it worked, and we were on our way.
Google says it's a 20-minute ride. There's a lot Google doesn't know.
The car started giving trouble. It stalled. They were able to get it started again, by the same method. It stalled again. The driver decided something serious was wrong, and put into effect the Gambian equivalent of calling AAA: he hitched a ride back to the town we had just passed through and found someone else with a car, who took us to our destination and then returned to help out the first driver.
It was while we were waiting for the second car—in the rapidly-falling darkness of a land near the equator, on an isolated stretch of the highway with no street lights, in a completely foreign third-world country—that Porter wondered why I was so calm. Well, why not? Kathy wasn't upset, B. wasn't upset, and the driver was only upset with the person who had borrowed his car and apparently treated it badly. If the people who knew the country found nothing of special concern in the situation, well then, it was just part of "living the adventure."
Finally, we arrived at Kathy's place. We were more exhausted than hungry, but B.'s mother had send us dinner, and he joined us for the meal. We weren't too tired to enjoy both our first Gambian meal and the conversation.
But thus it came about that practically the first thing we did upon arrival in the Gambia was to break the rules our doctor—and all the travel advice sites, including the CDC's—gave us about what not to eat there: Be sure to avoid everything—except for fruit that you peel with your own hands—that has not been thoroughly cooked.
It was a problem that we would face throughout the trip: how to balance our health and safety concerns with the need to be courteous to our hosts. We felt that in this case the choice was clear, so we dug right in to a dish that included fresh tomatoes and lettuce. It was just another part of the adventure. And although we didn't know for sure until the next day, I'll close by revealing the punch line.
We did just fine.
There was evening, and there was morning: the first day. And it was very good.